5 fruit ketchup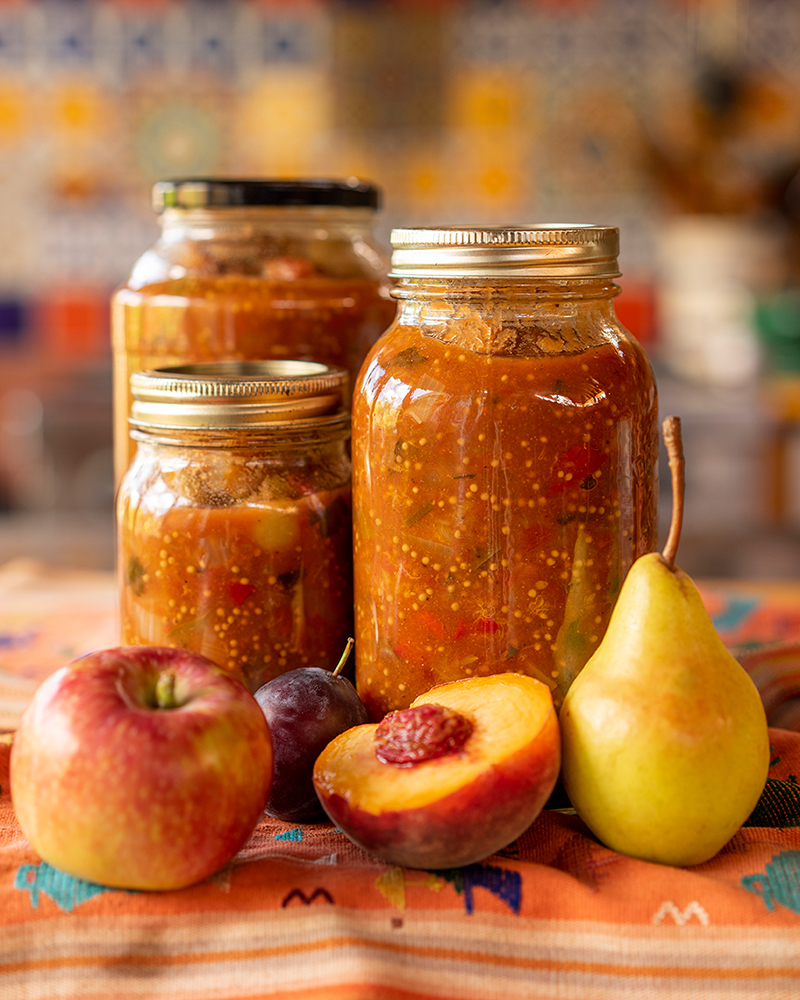 Making this ketchup is an ideal way to make use the fruits that are in such abundance during the fall. Choose firm, ripe fruit if you would like to have chunks of fruit in your ketchup.
The choice of spices can vary, depending on your personal preference. We have a soft spot for Creton spices because the warming flavours that the cloves and mace remind us of old-fashioned ketchup.
Ingredients
10 medium tomatoes
2 peaches
2 pears
2 apples
6 red plums
2 onions
2 celery branches
1 small red Bell pepper
1 small green Bell pepper
2 cups seedless green grapes
3 cups cider vinegar
1 ½ cups maple syrup
3 Tbsp sea salt
2 Tbsp Creton spices or 3 Tbsp Ketchup spice blend*
4 Tbsp yellow mustard seeds
* You can replace this spice blend with cinnamon, cloves, nutmeg, coriander seeds and black pepper.
Method
1

Scald the tomatoes and peaches for 20-30 seconds. Let cool in cold water before peeling.

2

Chop the tomatoes. Cut the peaches into cubes.

3

Peel and deseed the apples and pears. Cut into cubes.

4

Remove the seed from the plums and cut into pieces.

5

Dice the onion, celery and Bell peppers.

6

De-stem the grapes.

7

Place all the prepared fruits and vegetables in a large pan. Pour in the vinegar, maple syrup and add salt.

8

Bring to a boil and reduce the heat to low, continue cooking, stirring often.

9

When the fruits begin to fall apart and the cooking juices thicken (after about one hour), grind the Creton spices and add them to the pan, along with the whole mustard seeds.

10

Continue cooking for 15 minuts. Taste and correct the salt, spices, vinegar or maple syrup, to your taste. Cook for another 5 minutes. Immediately pour into sterilized jars and tightly close the covers.