8 Pepper Glazed Duck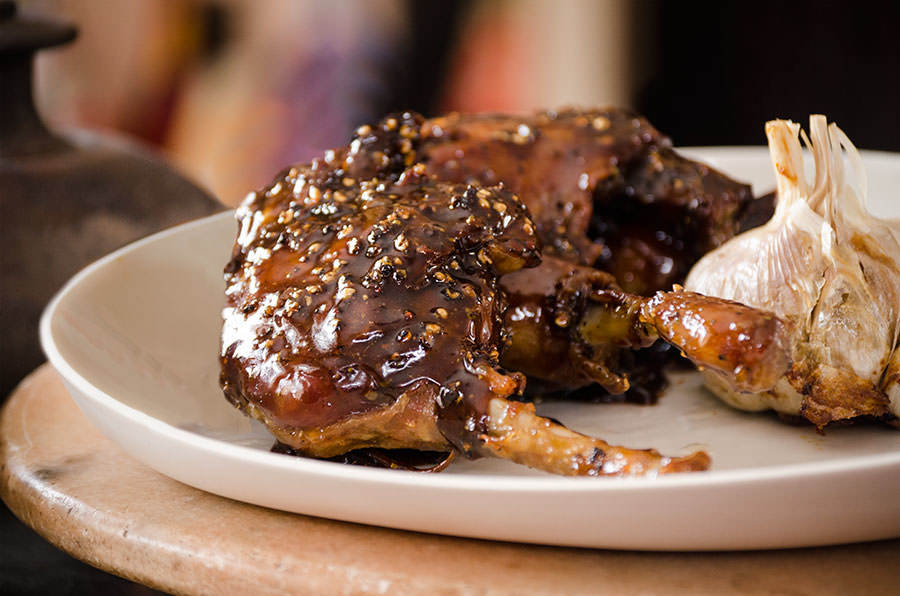 Among Ethné's 1000 beloved duck dishes, this is probably her favorite. The recipe is somewhat long but very easy as it requires little effort. The bonus is that the long cooking time yields a lot of clear duck fat which we recommend keeping for cooking pan-fried potatoes, a great accompaniment to this dish.
Ingredients
4 duck legs
4 tsp sea salt
1 whole head of garlic
1 piece of ginger (1 inch)
½ cup maple syrup
2 Tbsp 8 Pepper blend, cracked
3 Tbsp balsamic vinegar
1 Tbsp soy sauce
Method
1

Rub duck legs with salt. Place skin side down, in a pan on medium-low heat. Cover and cook for 15 minutes.

2

Remove cover. The duck should begin to brown and render fat. Turn legs and add whole head of garlic and ginger. Cover and cook for another 15 minutes.

3

Turn duck over every 15 to 20 minutes. Adjust heat if necessary.

4

When legs are tender (after 1-1¼ hours of cooking), place on a plate. Pour all the fat into a bowl and set aside for other uses.

5

Raise heat to high, pour maple syrup and add 8 pepper blend to the pan. Reduce syrup until it begins to froth and caramelize. Add vinegar and soy sauce (Pay attention to the occasional splattering from the pan.) Lower heat and return duck legs to the pan, turning regulary so as to coat them thoroughly with spice caramel. Serve.