Acadian seafood risotto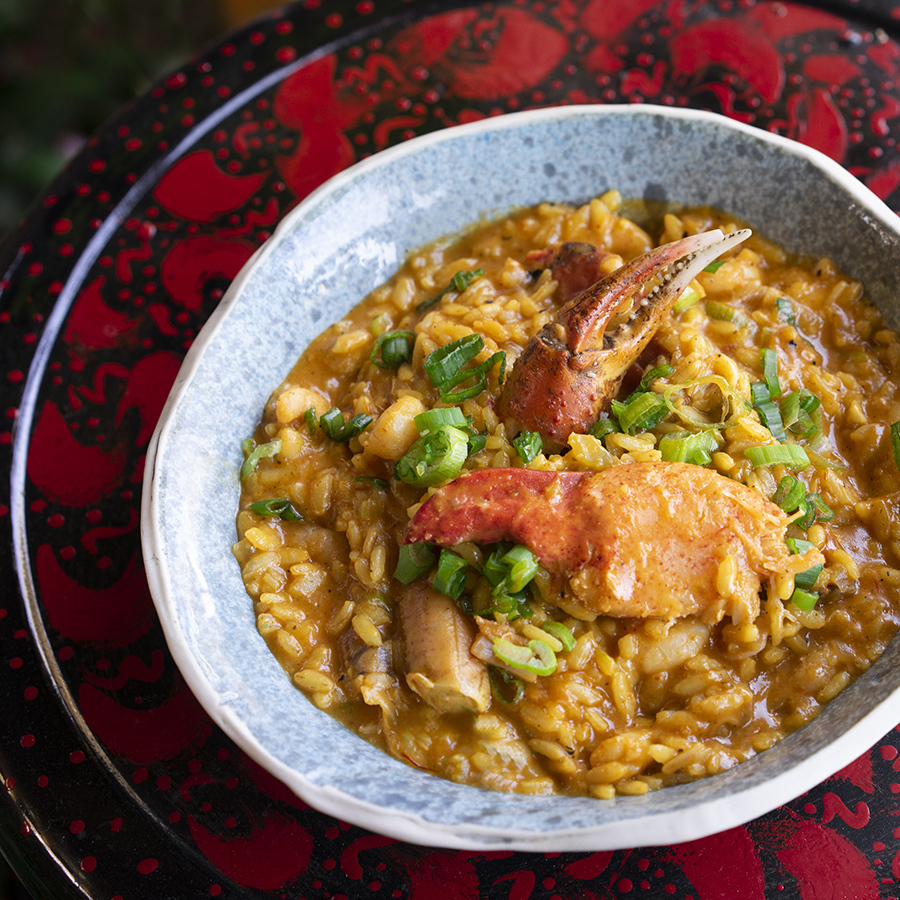 A grateful tip of the hat to our Acadian cousins who couple Acadian seafood with Louisiana Cajun spices! It's hardly a far-fetched notion as this risotto is incredibly delicious. The key to its success is the seafood stock that's made using freshly cracked shells. This is a dish to be shared only with those you love!
For the stock
1 carrot, chopped
1 onion, chopped
1 celery stem, chopped
4 garlic cloves
¼ cup olive oil
1 tsp whole black peppercorns
2 cloves
1 tsp oregano
1 tomato OR 2 Tbsp tomato paste
4 cups lobster/shrimp/crab shells
For the risotto
1 pinch of saffron
¼ cup olive oil
½ lb Nordic shrimp
Meat of 1 Nordic crab OR 1 Nordic crab, cut into pieces
Meat of 1 small lobster, diced
3 garlic cloves, chopped
½ tsp Cajun spices, ground
1 onion, finely chopped
1 celery stem, finely chopped
½ green Bell pepper, finely chopped
1 cup risotto rice
1 Tbsp Cajun spices, ground
1 cup white wine
4 - 5 cups seafood stock (recipe below)
1 bouquet scallions, slivered (white and green sections separated)
¼ lb cold, sweet butter, cubed
Salt and pepper, to taste
Stock
1

Place vegetables and spices in a large pan on medium heat. Sauté for a few minutes allowing them to sweat.

2

Add the shells and sauté 5 more minutes. Cover with cold water and bring to a boil.

3

Simmer for 20 minutes. Strain the stock. Discard the shells.
Risotto
1

Place the saffron in a small glass then add 2 oz boiling water. Set aside.

2

Pour the stock into a pan and maintain at a constant, low boil to eventually gradually add while cooking the rice.

3

Place a large pan on high heat. Pour in the oil then add seafood, chopped garlic and ground Cajun spices. Sauté lightly for 2 – 3 minutes, mixing often. Remove the seafood with a slotted spoon, allowing the oil and jus to remain in the pan. Place the seafood on a plate to cool.

4

Reduce heat to medium. Add the onion, celery and Bell pepper to the pan with a little oil if necessary. Sauté for 5 minutes stirring regularly.

5

Add the rice and ground Cajun spices. Salt and pepper to taste. Mix well and incorporate the wine, saffron along with its infusion.

6

Mix and allow all the liquids to be absorbed.

7

Add a ladle of boiling stock and mix constantly until ¾ of the liquid is absorbed. If necessary, adjust the heat to bring to a medium boil. Repeat, adding boiling stock from time to time so that the rice neither dries nor drowns. Continue cooking, mixing constantly to prevent the rice from sticking to the bottom of the pan.

8

Cook until the rice is al dente. Precisely 21 minutes after incorporating the liquids.

9

Incorporate the reserved seafood. Mix for one minute.

10

Remove from the heat, add the white scallions and cold butter, stirring constantly until the butter melts. Taste and adjust salt and pepper, if necessary.

11

Serve garnished with green scallions.