Adobo Roasted Chicken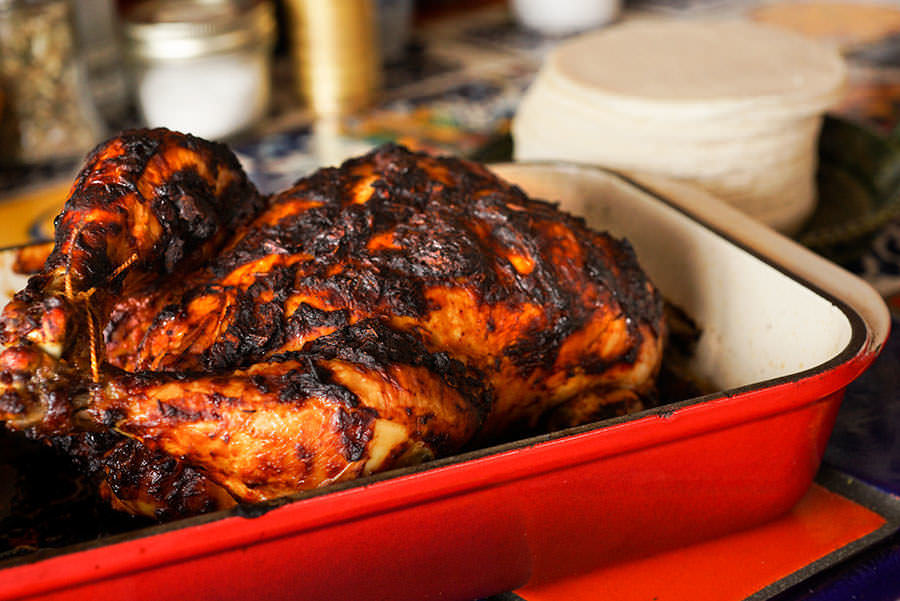 In Oaxaca, chicken is often roasted on a charcoal grill and sold hot, right by the side of the road. If you have a rotisserie on your grill, all the better.
Adobos are versatile aromatic pastes that can be used as marinades, salsas, dressings, or even in mayonnaise. You can make them with all kinds of different chilies and even switch up the spices, like with cinnamon, pepper, allspice, and clove. Adobos keep very well in the freezer. 
Ingredients
Sides
Corn tortillas
---
Crème fraiche or sour cream
---
1 onion, sliced
---
Cilantro, chopped
Method
1

Soak anchos and guajillos in a little hot water for 20 minutes.

2

Toast cumin, oregano, and avocado leaves in a hot pan.

3

Grind toasted spices into a powder.

4

Place rehydrated chilies, spices, garlic, lime juice and salt in a food processor. Purée.

5

Rub chickens with the adobo and marinate in the fridge for as long as possible (up to 72 hours).


6

Roast in oven at 375°F for 1 hour 15 minutes, basting occasionally. Or light one side of the grill on medium heat. Place the chicken in an aluminum tray on the cool part of the grill. Cover and cook for 1 hour 30 minutes.


7

Serve chicken with sides and make your own tacos.