Alejandra's Favourite Chicken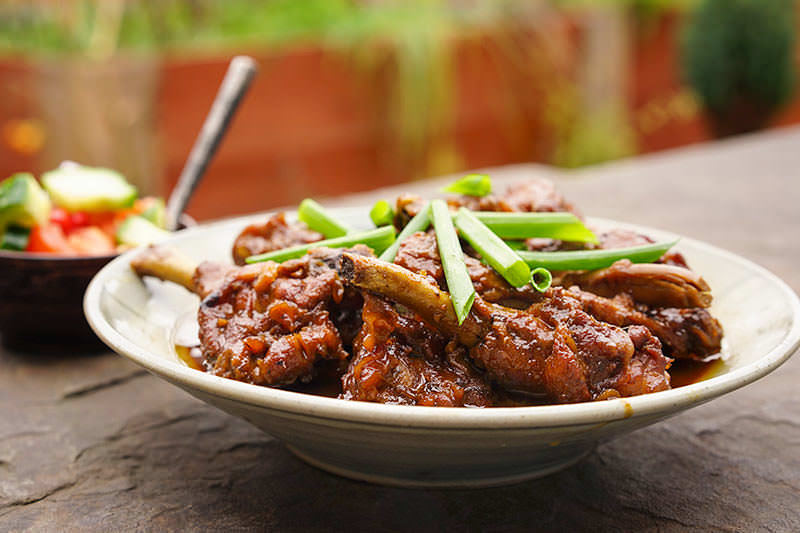 This recipe takes a grand total of 5 minutes to prepare and is finished in less than an hour. In the era when we were caterers, we made this for the kitchen staff often to the great pleasure of Alejandra, our pastry chef.
Found here are typical Bumbu spices, without the work of finely grinding the spices. We used duck wings just to take the photo and, unsurprisingly, they were delicious!
Serve with white rice.
Ingredients
4 cloves garlic
1 inch fresh galanga
1 inch fresh ginger
½ stick lemongrass
2 leaves kaffir lime leaves
3 chopped Thai chilies or 1 tbs Sambal Oelek
2 Tbsp vegetable oil
2 lbs chicken wings
1 pack scallions, sliced
½ tsp brown or palm sugar
½ cup kejap or soy sauce with sugar added
1 tbsp lime juice
salt
Method
1

Roughly mash the spices, garlic and chili with the flat side of the blade of the knife.

2

Heat the oil in a pot. Add the chicken and mashed ingredients.

3

Sauté for 5 minutes. Add the other ingredients and half cup of water.

4

Cover and braise for 45 minutes. Stir from time to time.