Aleppo Seven Spice Candied Almond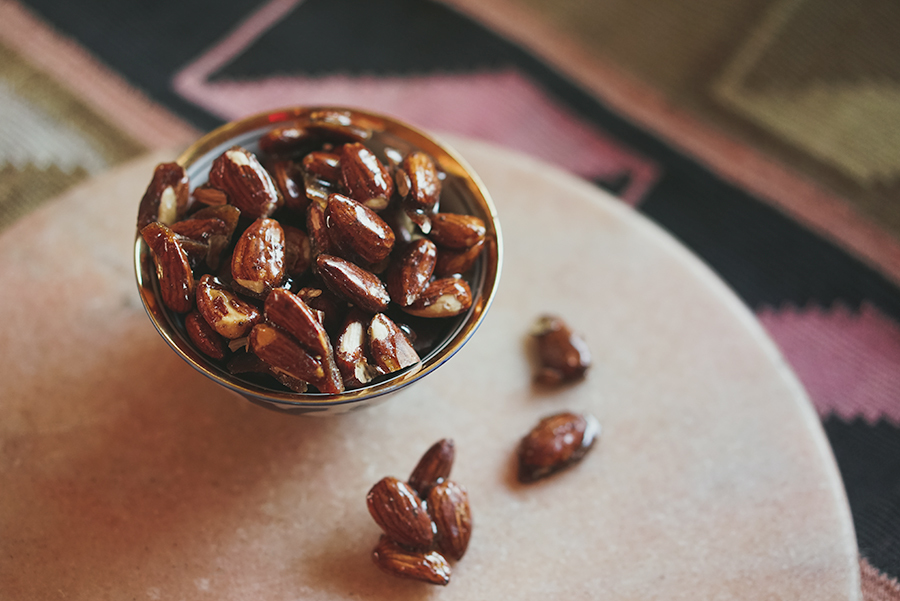 These lightly peppery, wonderfully caramelized spiced almonds are perfect served with tea, coffee or even a cocktail! Once crushed they can be added to desserts – grind them finely and they transform into a deliciously, decadent almond praline butter. 
Ingredients
2 cups raw almonds 
1 cup sugar
½ tsp salt 
2 Tbsp maple syrup (opt.) 
1 tsp olive oil
1 Tbsp Aleppo Seven Spices, finely ground 
½ cup water
Method
1

Spread the almonds on a bake sheet then dry roast for 15 – 20 minutes, in a preheated 350 °F oven. Set aside.

2

Mix all remaining ingredients in a large pan and bring to a boil on high heat, stirring constantly using a wooden spoon or spatula while continuously scraping the bottom of the pan. Boil until the syrup thickens enough so that the spoon or spatula leave traces at the bottom of the pan.

3

Add the roasted almonds to the pan, mixing constantly and carefully coating the almonds with the syrup.

4

Reduce the heat to medium and continue cooking the almonds until the water evaporates and the syrup crystalizes.

5

Continue cooking until the sugar melts once again and is smooth and translucid. Pour the syrup-coated almonds on to a parchment-covered baking sheet. Let cool.

6

Before serving, break into pieces in order to separate the almonds.