Aleppo Seven Spice Squash Soup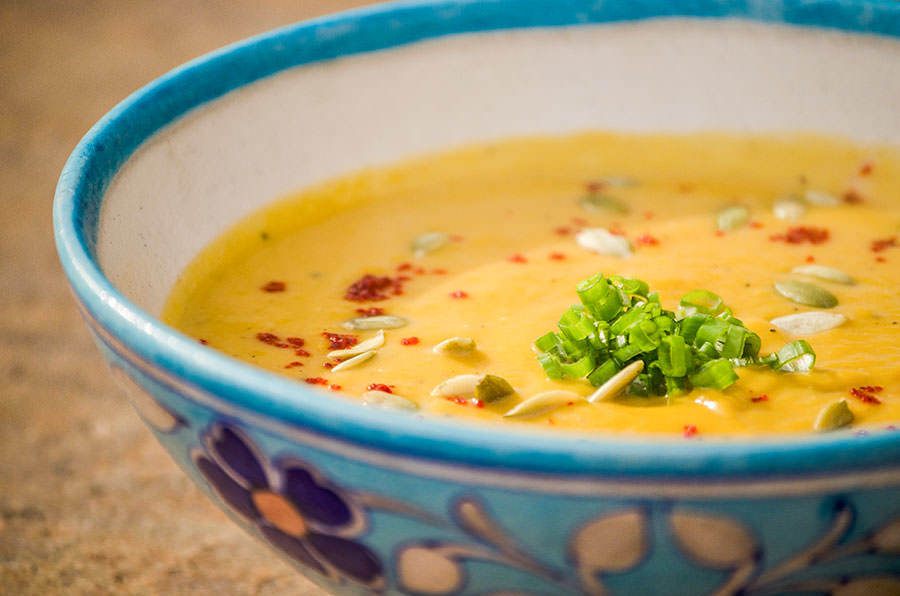 Squash combines beautifully with aromatic spices and Aleppo seven spices are no exception. The amount of milk used in this soup may vary depending on the texture and variety of the squash used.
Ingredients
5 Tbsp butter
2 onions, chopped
1 leek white, sliced
salt to taste
8 cups peeled squash cubed
2 tsp Aleppo seven spice, ground
6 cups chicken stock or water
2 cups milk (approximately)
Garnish
½ pumpkin seeds, roasted
chives or scallions, thinly sliced
Aleppo pepper, to taste
Method
1

Melt butter in a pan on medium-low heat. Add onions, leek and salt. Mix and cover; let simmer for 10 minutes.

2

Add squash, spices and stock. Cook covered until pumpkin falls apart (30 minutes). Reduce to a purée using a blender. Pour just enough milk to make a creamy soup.

3

Reheat and serve garnished with roasted pumpkin seeds, chives and Aleppo pepper.