Apicius Pork Tenderloin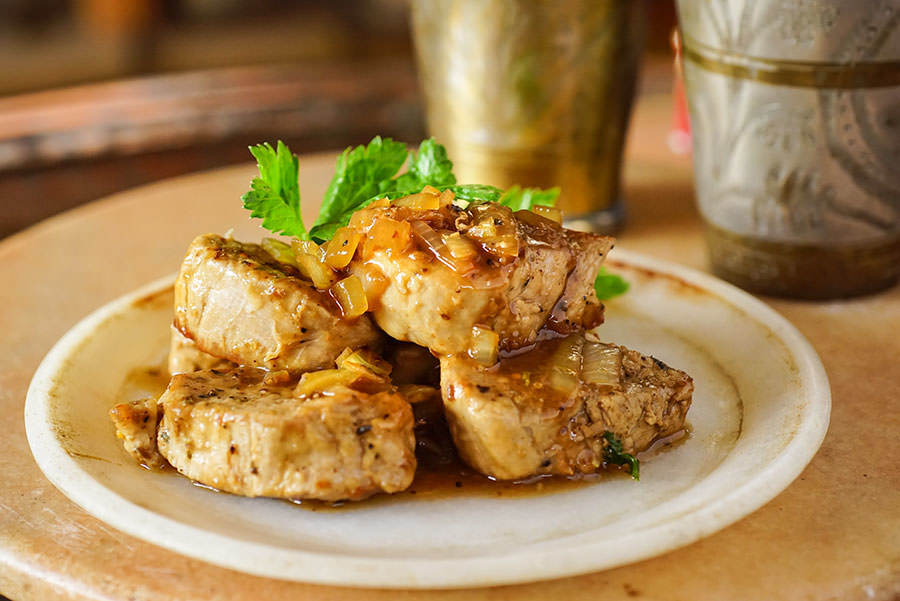 This recipe reproduces Roman Imperial flavours as faithfully as possible using ingredients available today. Since sugar was unknown to the Romans, its more authentic with pekmez (grape molasses) or honey in sweet and sour dishes.
Ingredients
2 filets pork tenderloin
3 Tbsp Apicius blend, ground
Salt, to taste
½ cup flour
4 Tbsp olive oil
1 small leek (white part only), chopped
¼ cup wine
3 Tbsp pekmez* or vino cotto or 2 Tbsp honey
2 Tbsp red wine vinegar
1 tsp fish sauce
Method
1

Cut the pork filets into 1-inch thick slices. Season with spices and a little salt. Roll in flour then shake lightly to remove any excess flour.

2

Heat a large pan on medium. Pour in the oil and brown the pork filets for 5 minutes. Turn over the meat and place the leeks around the pork. Cook for another 5 minutes, until the leeks are golden.

3

Deglaze with the wine, then add the pekmez, vinegar and fish sauce. Reduce the sauce for a few minutes, while carefully turning the meat over.