Apple and maple butter Sharlotka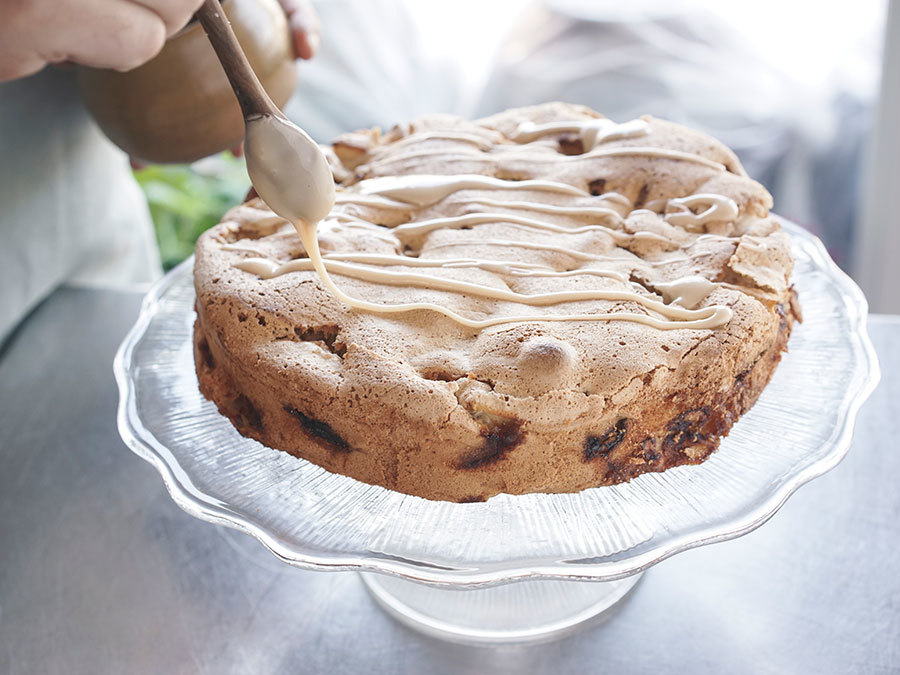 A scrumptious, spongy cake that's not overly sweet and requires very little time to make. We recommend apples that will retain their firmness during cooking, to ensure the stability of the cake. Cortland and Granny Smith varieties would be ideal. 
Method
1

Heat oven to 350 °F.

2

Cover the bottom of a 9-inch spring mold with parchment paper. Grease the sides and bottom of the mold.

3

Peel apples and remove hearts. Cut each apple in four, then perpendicularly cut the quarters into ¼-inch thick slices.

4

Transfer the apples into a bowl with the lemon juice.  

5

Split the vanilla bean lengthwise, remove the seeds using a knife and add them to the bowl of apples. Mix well and set aside.

6

Mix flour, cassia and salt in another bowl.  Set aside.

7

Beat the eggs and sugar using a mixer for 8 minutes, until the batter whitens and forms ribbons.

8

Incorporate dry ingredients, folding delicately using a spatula. Avoid over mixing.

9

Spread apples evenly in the mold.

10

Add half the batter to the apples.

11

Place the maple butter, divided into six teaspoons, on the apples. Cover, once again using the remaining batter.

12

Cook in the oven for 50 minutes.

13

Garnish with more maple butter if desired. 
Do not under any circumstance throw out the vanilla bean once the seeds have been removed! The shell is extremely aromatic and adds fragrance to vanilla sugar or when added to home-made vanilla extract. More ideas and precisions on how to get the most out of these precious beans can be found here.