Avial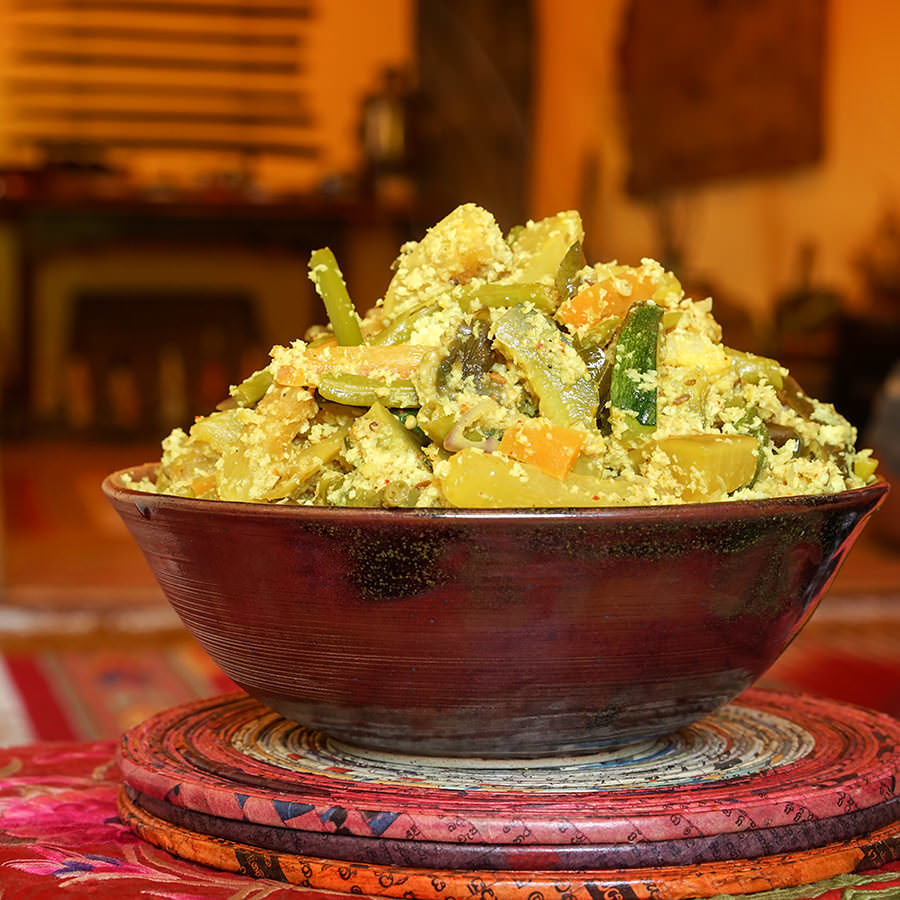 This recipe comes to us from the Spice Coast of India. It's a popular dish that changes throughout the year according to the vegetables in season - green beans, cabbage, carrots, zucchini, okra, cucumber, etc. Anything that's fresh works great. It's the coconut, along with the hint of acidity from the tamarind, that unites the flavors. If you find frozen coconut, get a lot of it; it's more convenient and fresher than supermarket coconuts.
Ingredients
3 Tbsp tamarind paste or 6 Tbsp lemon juice
1 tsp turmeric
Salt and pepper, to taste
Chile, to taste
1 pack (400g) frozen grated coconut or 2 cups fresh coconut, grated
1 tsp cumin
2 shallots, sliced thin
4 Tbsp coconut oil
10 curry leaves
Method
1

Pull apart the tamarind with the tips of your fingers. Place in a cup and add ¼ cup boiling water. Set aside.

2

Slice vegetables into 2 to 3-inch strips. Put in a pot with half the turmeric, salt, pepper and chile. Stir. Pour in 1 cup of water and bring to a boil. Cover and steam over medium-low heat, without stirring, until vegetables are cooked, about 10-15 minutes. If you have some more tender vegetables, add them halfway through cooking.

3

Meanwhile, put grated coconut, remaining turmeric, cumin and ¼ cup of water into a food processor and purée roughly.

4

When vegetables are cooked, add shallots, coconut oil, curry leaves and tamarind. Do not stir. Cook, covered, for 3 more minutes. Add coconut purée and cook for 2 more minutes.

5

Remove from heat and stir gently. Let rest 15 minutes, uncovered, before serving.