Ayam Gulai Putih - Indonesian white chicken curry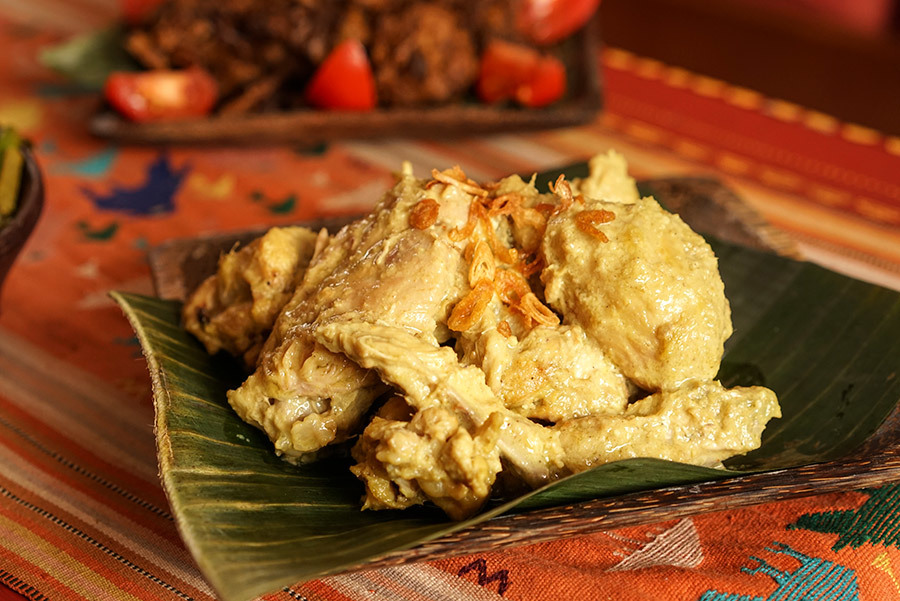 This chicken curry is easy to make and, like most curries, it's even better the next day. The runny sauce is perfect for lots of rice or noodles. Be sure to simmer it on very low heat, uncovered, so the coconut milk doesn't separate.

Kemiri nuts are often used to thicken curries and sauces in Indonesian cooking. They're hard to find outside of Indonesia and are often replaced with macadamias or cashews. They do, however, impart a unique and unmistakable flavor to the dish.
Ingredients
¼ cup shallots
1 Tbsp garlic, chopped
1½ Tbsp ginger, chopped
3 Tbsp lemongrass, chopped
2 Tbsp Gulai Spices, ground
5 kemiri nuts or macadamia nuts
1 chicken (3 lb)
Salt to taste
4 Tbsp coconut oil
1 inch cassia

2 cups coconut milk
1 cup water
1 fresh kaffir lime leaf or 2 dried
3 Tbsp tamarind pulp
Method
1

Purée shallots, fresh spices, Gulai spices, and kemiri nuts to a paste.

2

Cut chicken into pieces and place in a bowl with salt and half the spice paste. Marinate 15-30 minutes.

3

Heat a pot on medium. Add oil, cassia and chicken and cook for 5-7 minutes, without coloring it. Add coconut milk, water, remaining spice paste, and leaves.

4

Cook on medium-low for around 45 minutes until chicken is almost cooked and the sauce is not too thick. Incorporate tamarind paste and simmer for 5 minutes more.

5

Let rest 20 minutes before serving.