Bédard's Lentil and Chickpea Soup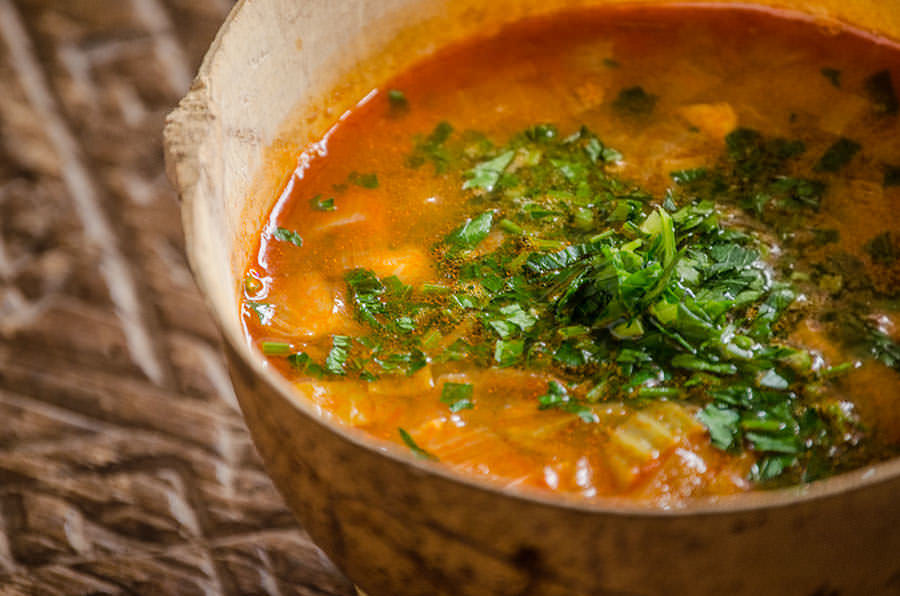 Kofte spices happen to be the favorite spice blend of one of our colleague, Eric Bédard, who has been experimenting with it for years. The vegetables used for his soup recipe may vary. 
The only ingredients that do not change are the mild pepper paste, the chickpeas, the lentils which thicken the soup in 20 minutes and of course, the spice blend.
Ingredients
4 Tbsp olive oil
4 garlic cloves, chopped
1 onion, chopped
1 carrot, cubed
1 celery branch, sliced
½ leek, sliced
1 Tbsp Kofte spices, ground
3 Tbsp mild Turkish pepper paste* or tomato paste
½ cup dry, red lentils
1 cup cooked chickpeas
8 cups chicken stock
salt to taste
2 garlic cloves, grated
¼ cup fresh mint, chopped or 1 Tbsp dried mint
2 Tbsp red wine vinegar
Garnish
thick yogurt
fresh cilantro and/or chopped parsley
Method
1

Heat a large pan on medium heat. Pour in oil and add vegetables and garlic, stirring occasionally.

2

When vegetables begin to cook, add spices and mild pepper paste. Cook a few more minutes.

3

Place lentils, chickpeas and stock in the pan. Salt to taste and bring to a boil. Reduce heat and cover. Let simmer for 20 minutes, stirring occasionally. Add chopped mint, garlic and vinegar. Mix well.

4

Serve garnish with yogurt and herbs.
*Available in Middle Eastern groceries. The Öncu brand is very popular in Turkey.