Syrian Baba Ganoush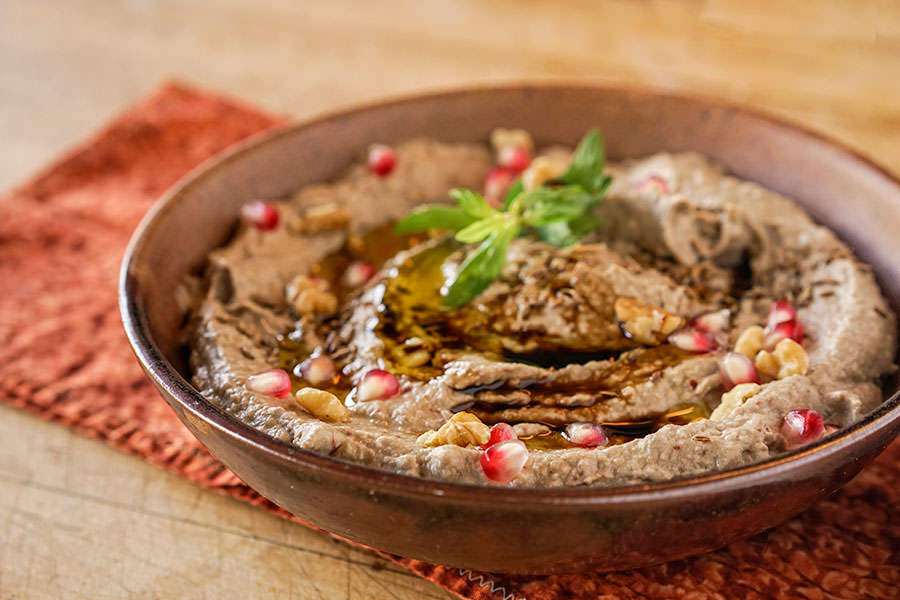 Baba Ganoush is an essential mezze in many Middle Eastern countries. The ingredients may vary from one region to another and there are many versions of the famous eggplant dip.
The combination of walnuts and pomegranate molasses used in this recipe is a typical flavor in Syrian cuisine.
Ingredients
1 large eggplant
2 Tbsp cumin
½ cup walnuts
3 cloves garlic
¼ cup tahini, well-stirred
¼ cup pomegranate molasses
1 Tbsp Aleppo pepper
½ tsp Reshampatti or Cayenne
½ tsp cinnamon, ground
¼ cup olive oil
Salt to taste
Walnuts for garnish
Pomegranate seeds for garnish (opt.)
Method
1

Set oven to broil and grill eggplant until flesh is cooked through. Let cook a few minutes. Halve and remove flesh with a spoon. Set aside.

2

Toast cumin in a small pan heated on medium. Grind half the spices and set aside the other half for garnish.

3

Place nuts and garlic in a food processor and mince fine. Add the eggplant, tahini, pomegranate molasses, ground cumin and other spices. Reduce to a purée while adding oil in a continuous stream. Salt to taste.

4

Spread baba ganoush on a plate and decorate with nuts, grilled cumin and a splash of olive oil.