"Back from New Orleans" Bread Pudding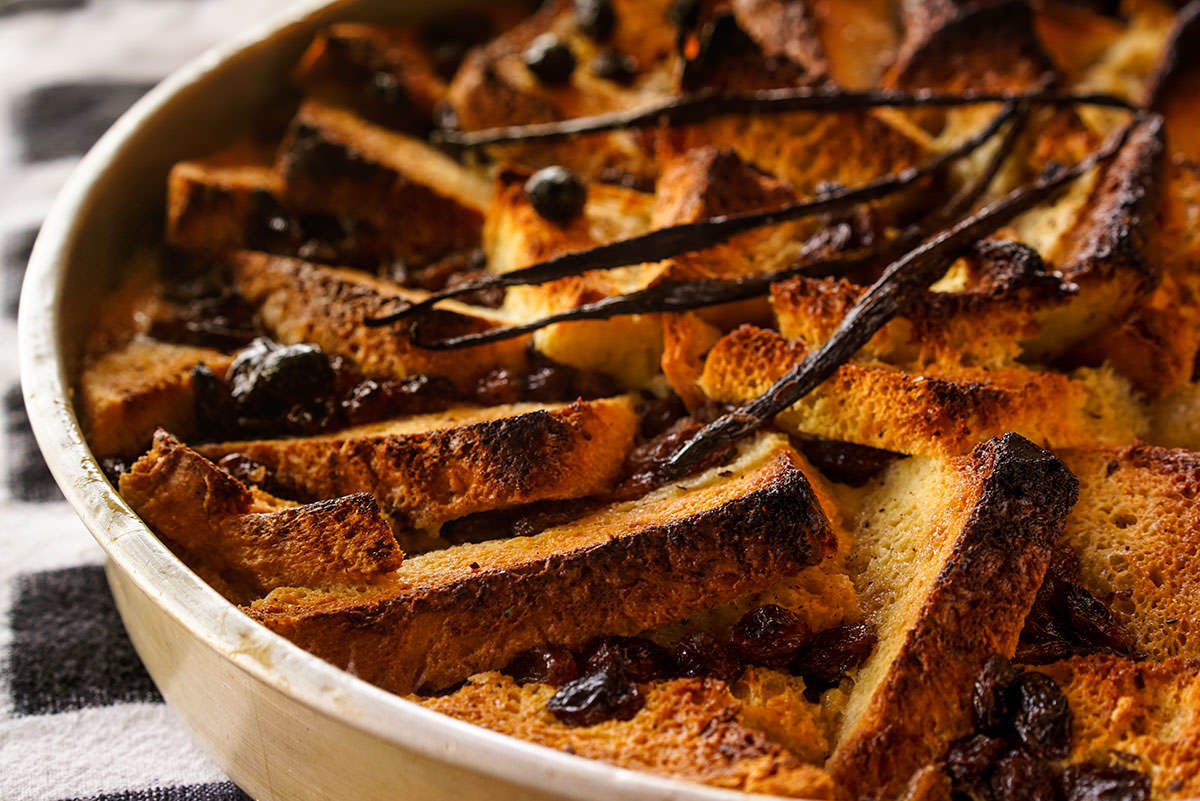 This recipe is inspired by the spectacular bread puddings we discovered during our trip to Louisiana. These bread puddings can vary from recipe to recipe, but always include and alcohol, cassia, and nutmeg. This version uses maple taffy instead of maple syrup. If you can get your hands on it, it's also nice with a hint of tonka bean, which goes great in maple products. 
Ingredients
½ cup raisins
---
½ cup bourbon or whisky
---
¾ cup maple taffy
---
½ stale egg bread
---
4 Tbsp butter
---
1½ cup milk
---
1½ cup 35% cream
---
½ cup + ¼ cup sugar
---
1 vanilla bean, split
---
4 egg yolks
---
1 egg
---
¼ tonka bean, grated (opt.)
---
¼ nutmeg, ground
---
1 Tbsp cinnamon, ground
Method
1

Soak raisins in alcohol for 12 hours.


2

Preheat oven to 350°F.


3

Spread maple taffy in the bottom of a 10-inch mold and place in the oven.


4

Keep an eye on it until it comes to a strong boil (5-8 minutes).


5

Remove mold from oven and let cool 30 minutes.


6

Meanwhile, place milk, cream, ½ cup sugar and vanilla bean in a pot and heat on medium. Let the milk simmer very lightly for 10 minutes so it infuses sufficiently. Remove vanilla bean.


7

In a bowl, beat eggs, yolks, and ¼ cup of sugar with tonka, nutmeg and cinnamon for about 3-4 minutes.


8

Pour hot, infused milk into the egg mixture slowly, in a thin stream, beating constantly. Set aside.


9

Place bread slices on the hardened maple taffy and divide raisins and alcohol between the bread slices.


10

Pour the egg mixture over the bread and shake the mold gently to level it out.


11

Garnish with butter and vanilla bean. Bake until the bread is golden brown and lightly puffy (35-45 minutes)


12

This dessert is best served at room temperature.