Baingan Bharta - Indian Style Mashed Eggplants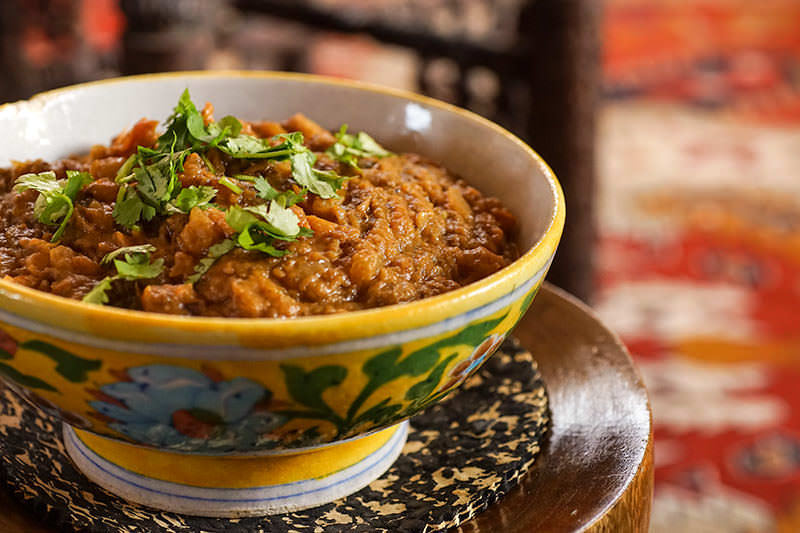 This puréed roasted eggplant dish is one of our favourite staff lunches, and Varsha's recipe is the best!
Ingredients
6-7 Chinese eggplants
2½ Tbsp coconut oil
1 tsp cumin, whole
5 onions, chopped
1 inch ginger, minced
3 fresh chilies, minced
5 cloves garlic, minced
1 tsp kashmiri pepper ground or paprika
2 Tbsp coriander, ground
½ tsp cumin, ground
½ tsp turmeric, ground
Salt to taste
4 large tomatoes
1½ tsp Garam Masala, ground
Fresh coriander leaves (opt)
Method
1

Preheat oven to 400°F.

2

Remove the heads and score the eggplants by making several diagonal slices in the skin. Cover them thoroughly with 1 Tbsp of the oil. Place in a roasting dish and roast until soft and slightly brown, about 10-15 minutes.

3

When the eggplant is finished, remove from oven. When it's cool enough to handle, put it in the food processor and purée.

4

Meanwhile, add the remaining coconut oil to a medium pot. Turn on medium heat and add the cumin seeds. Fry for a few seconds and add the onions. Sautée until brown, stirring often, about 10 minutes.

5

Add ginger, chilies and garlic, stir and continue to fry for a couple of minutes. Add the paprika, turmeric, coriander, ground cumin and salt, then stir.

6

Add the chopped tomatoes, stir, and let simmer 5-7 minutes until cooked- you should see the oil rise to the top when they are fully cooked.

7

Add the puréed eggplant and stir until consistent. Season with garam masala and serve with chopped coriander leaves on top.