Baked basque chicken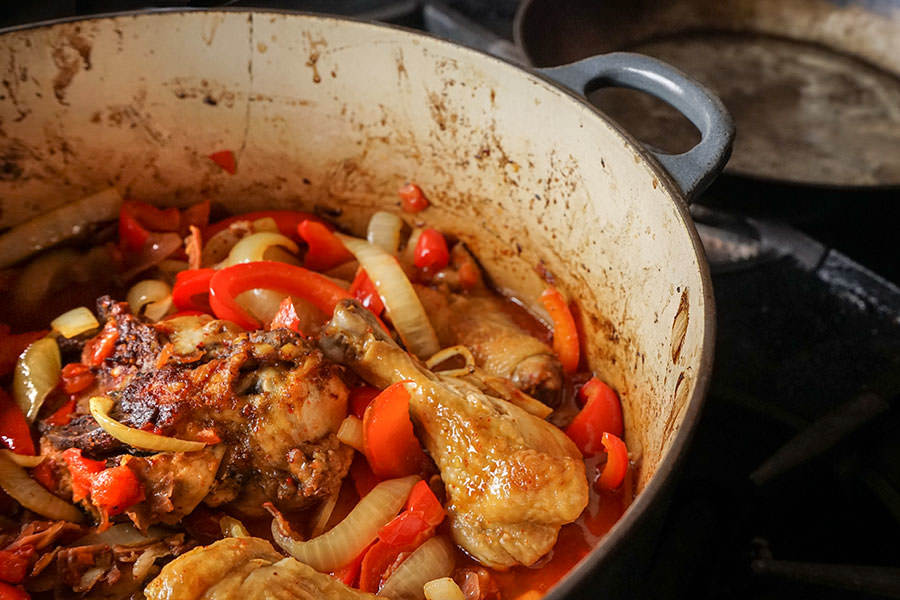 This recipe calls for Bayonne ham, however any good dry ham cut in little pieces will be great. We like to use the shank of one of those hams. Tasty and economical!
Ingrédients
1 medium chicken, cut in 8 pieces
6 cloves garlic
1 tsp salt
2 Tbsp Gorria pepper, ground
6 Tbsp olive oil
2 medium onions, cut in thick slices
2 sweet red peppers, cut into ½ inch strips
4 oz slice of Bayonne or other dry ham, diced
1 cup white wine
3 medium tomatoes, peeled (or not), and diced
Method
1

Preheat oven to 425°F.

2

Place chicken in a bowl.

3

Pound salt, garlic, and Gorria pepper into a paste. Stir into 1 Tbsp oil. Rub all over chicken pieces.

4

Place chicken in a large, deep roasting pan and put it in the oven. Roast for 15 minutes until well colored.

5

Reduce heat to 350°F and add onions, peppers, and ham. Drizzle olive oil all over and roast for another 15 more minutes.

6

Add the diced tomatoes and wine. Cook for an additional 20 minutes until the chicken is cooked, the vegetables are soft, and the sauce thickened.

7

This dish is traditionally served with garlic roast potatoes.