Barley and Vegetable Stew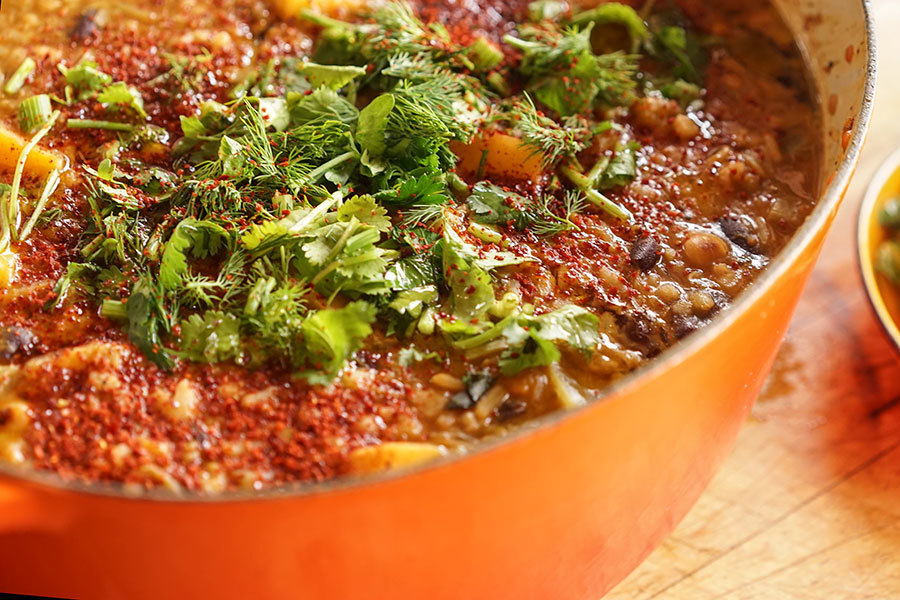 This Middle Eastern flavored stew is both plentiful and delicious. You can also replace the Lebanese Seven Spice with Couscous Blend for a more North African style flavor. Feel free to play around with the vegetables or beans if you want to try something else. Don't forget to adjust the amount of liquid at the end of cooking to maintain the texture. 
This recipe is designed for a large family. We advise you to adjust the number of ingredients according to your needs.
Ingredients
1 large leek
2 onions
½ cup olive oil
1 cup parsley or cilantro stems, chopped
6 cloves garlic, chopped
2 Tbsp Lebanese Seven Spice, ground
2 tsp fennel seeds
¼ cup sweet Turkish pepper paste or tomato paste
3 tsp Aleppo Pepper
Salt and pepper to taste
10 cups chicken stock or water
½ cup pearl barley
¼ cup rice
½ cup red or green lentils
1 small squash
4 stalks celery
1 small turnip
2 medium carrots
2 cups chick peas, cooked
2 cups beans, cooked
½ cup parsley, chopped
½ cup dill, chopped
½ cup fresh cilantro, chopped
Aleppo pepper for garnish
Splash olive oil
Method
1

Chop leek and onion into 1-inch cubes. Heat a large pot on medium-high. Add oil and sauté leek and onion for 12 minutes, until they begin to color.

2

Add parsley stems, spices, fennel seed, pepper paste, Aleppo pepper, salt and pepper. Cook 2-3 minutes, stirring constantly, to color the vegetables.

3

Add stock and barley. Bring to a boil and simmer for 30 minutes.

4

Add rice and lentils and stir.

5

Chop remaining vegetables into 1-inch cubes.

6

Add vegetables, chick peas, and beans. Simmer 20 more minutes until the rice and barley is falling apart and the vegetables are tender. Add water if needed for a more stew-like consistency. Add salt and pepper if needed.

7

Let simmer 15 minutes if possible.

8

Garnish with herbs, Aleppo pepper and a splash of olive oil.