BBQ Roast Beef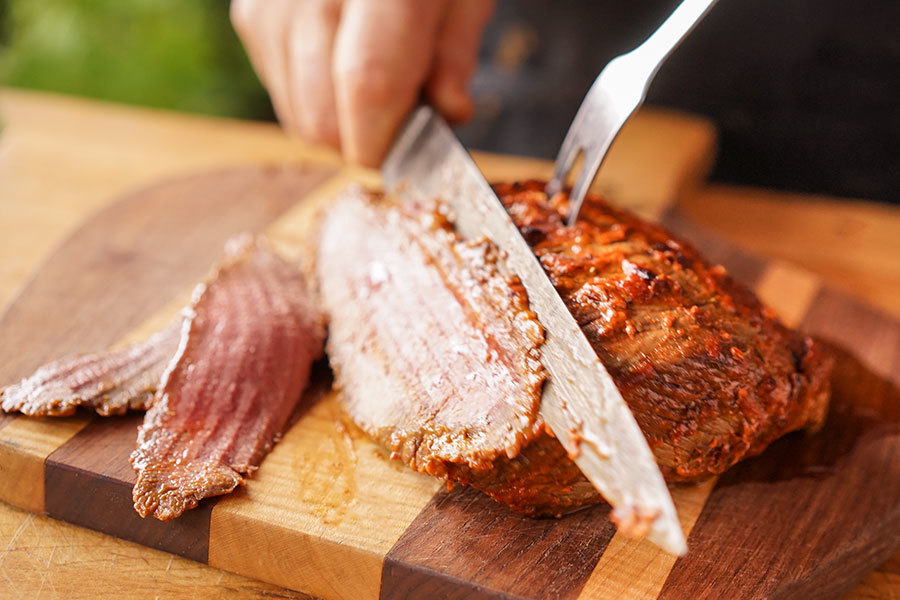 Boston butt is a very tender part of the top sirloin which should be cooked medium-rare at most or it will dry out. This recipe is great on the barbecue, on indirect heat, or in the oven.
Ingrédients
1 Boston butt (about 3 lbs)
4 Tbsp BBQ Classic blend or Staff BBQ blend, ground
¼ cup ketchup
¼ cup prepared mustard
1 Tbsp hot sauce of your choice
2 Tbsp cider or wine vinegar
Method
1

Preheat oven to 425° F or light one side of the grill on high.

2

Dry roast thoroughly.

3

Mix remaining ingredients in a bowl. Spread mixture evenly over the meat.

4

For oven roasting: roast for 15 minutes at 425° F, then reduce temperature to 350°F and roast for 20-25 minutes more, until the internal temperature registers 125-130°F.

5

Remove from oven and let rest in a warm place before slicing thinly.

6

For grilling: place the beef on the grill and sear each side over the open flame.

7

Place beef on an aluminum tray over the cool side of the grill. Cover the BBQ and reduce heat to medium (this may change according to your BBQ). Remove meat when it reaches an internal temperature of 125°F-130°F.  

8

Let rest 20 minutes before slicing thinly.