Beauce Salad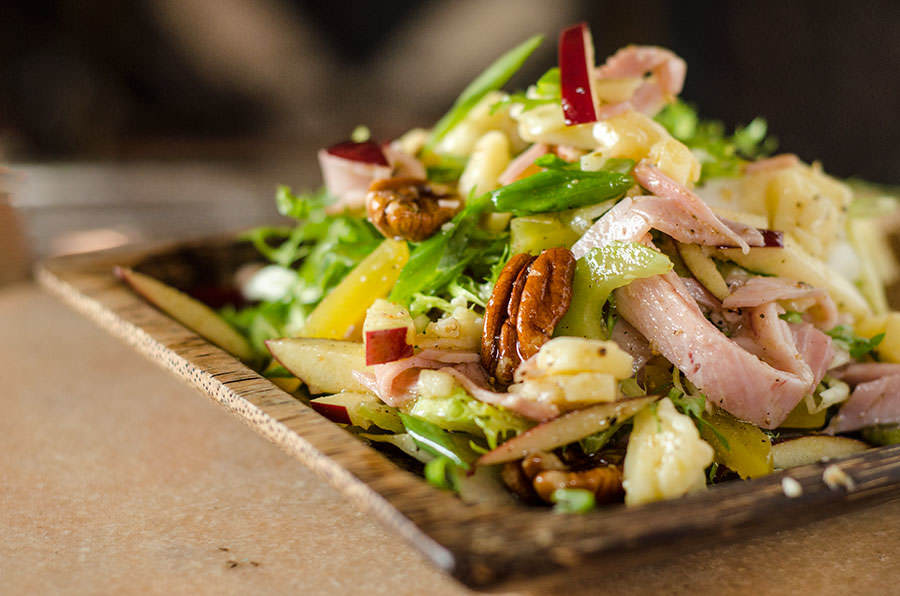 This salad pays homage to the magnificent maple syrup of the Beauce region of Québec where maple groves have a tough life in the rocky terrain. It makes a great main dish during the winter or a great appetizer when served in smaller portions.
Ingredients
2 endives 
---
1 small curly lettuce 
---
1 apple, julienned 
---
1 celery stalk, sliced 
---
1 small, cooked yellow beet, julienned 
---
4 oz smoked ham, julienned 
---
3 oz aged cheddar, grated 
---
4 green onions, sliced 
---
6 Tbsp pecans 
Dressing
3 Tbsp cider vinegar 
---
2 cloves garlic, grated 
---
1 Tbsp 8 Pepper Blend, ground 
---
1 tsp sea salt 
---
3 Tbsp maple syrup 
---
6 Tbsp sunflower oil
Method
1

Put vinegar, garlic, 8 pepper blend, salt and maple syrup in a large salad bowl. Mix well and set aside for 2 minutes before adding oil. 

2

Tear endives and lettuce into pieces and place in the salad bowl; add other ingredients. Mix well and serve.