Beef and Kimchi Soup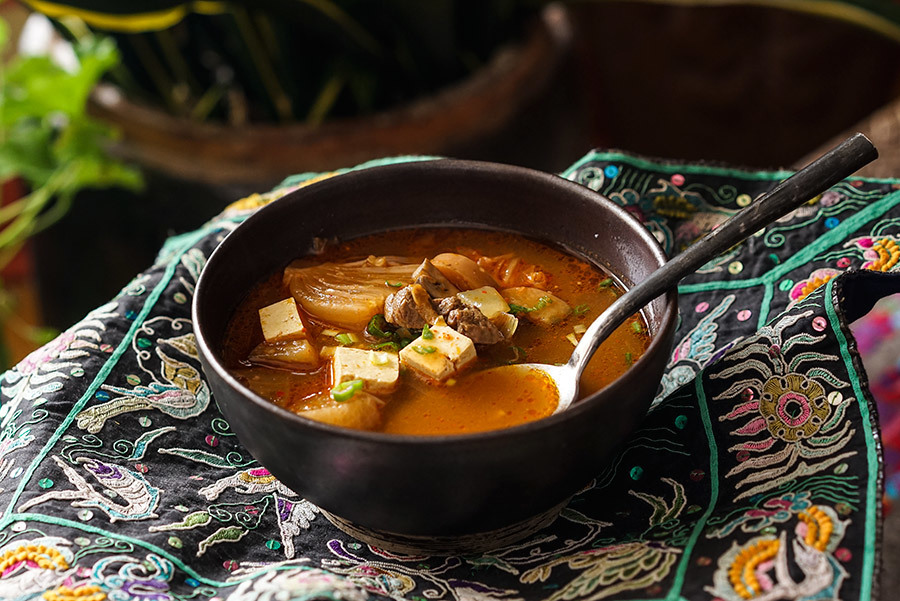 This sprightly soup can be made with beef or pork. It's the perfect way to finish of some kimchi that's losing its zip.

It can turn this soup into a meal just by serving it with some Korean or Japanese rice. We like to put some right in the bowl- it may not be traditional, but its good.
Ingredients
¾ lb beef cubes
1-inch ginger, chopped
5 cloves garlic, chopped
4 scallions, chopped
1 Tbsp fish sauce (opt.) 
2 Tbsp soy sauce
1 Tbsp toasted sesame oil
2 Tbsp vegetable oil
2 cup kimchi
1 cup kimchi juice
4 Tbsp Korean pepper
½ lb semi-firm tofu
4 scallions, for garnish
Method
1

Marinate beef in a bowl with ginger, garlic, scallions, fish sauce, soy sauce and sesame oil. Let rest 20 minutes.

2

Heat a large pot on medium high. Add oil and sauté a few minutes to blanch without coloring. Add 8 cups of water and boil for 20 minutes, until beef is almost tender.

3

Incorporate kimchi and Korean pepper. Let simmer 10 minutes more.

4

Add tofu and cook 2-3 more minutes. Garnish with minced scallions.