Beef Shashlik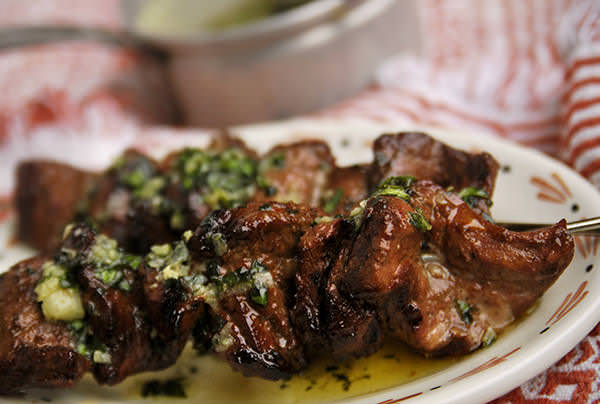 Shashlik is a little Turkish kebab of cubed beef in a spicy, slightly acid marinade.
Ingredients
Marinade
1 glass red wine
1 small onion, finely chopped
3 Tbsp pomegranate molasses or balsamic vinegar
1 tsp salt
1 tsp black pepper, crushed
1 Tbsp kofte spices
3 Tbsp olive oil
Garlic Butter
¼ lb salted butter
4 cloves garlic, finely chopped
¼ cup fresh coriander and/or basil and/or tarragon, finely chopped
Method
1

Cut meat into 1 inch cubes.

2

In a bowl, combine all marinade ingredients. Add meat and let marinate in a cool place several hours.

3

Drain meat and skewer.

4

Melt butter in a small saucepan. Add garlic and cook over low heat. Remove from stove and add herbs.

5

Grill meat to taste over high heat or on the barbecue.

6

Brush with garlic butter and serve immediately.
An ancient ingredient, pomegranate molasses is made by boiling down fresh pomegranate juice until it is thick enough to keep without preservatives. This fruity, sweet and sour syrup is used in salad dressings, marinades, sauces, or simply as a finishing touch. We like to call it the Middle East's balsamic vinegar. The best brands contain no sugar or other added ingredients, only pomegranate.