Beef with Coconut Milk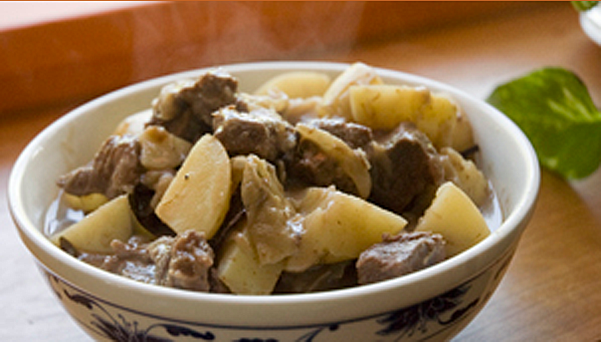 A very simple stewed beef recipe with an irresistible aroma. A hardy dish perfect for cold winter days.
Ingredients
1 tsp black pepper
3 buds green cardamom
4-inch stick cinnamon
6 cloves, whole
6 Tbsp oil
½ chopped hot chili pepper
1-inch piece ginger, chopped
3 onions, sliced
12 curry leaves (optional)
4 tsp vinegar
1 can (13 oz.) coconut milk
2.2 lbs beef sirloin cut into ½-inch cubes
3 Tbsp flour
Salt
3 medium potatoes
Method
1

In a mortar and pestle, crush the black pepper and the cardamom.

2

In a pan over medium heat, heat the oil and add the dry spices. Cook for 2 minutes.

3

Add chopped pepper, onion, ginger and curry leaves. Cook 7-10 minutes more, being careful not to brown the onions.

4

Remove seasonings, leaving only cooking oil in pan.

5

Flour the beef cubes and cook a few minutes in oil. Add vinegar, half can coconut milk, and just enough water to cover. Simmer for 15 minutes.

6

Meanwhile, peel and dice potatoes.

7

Add potatoes, salt and seasonings to beef. Simmer until potatoes are tender.

8

Add remaining coconut milk and heat through over low heat. Briefly bring to a boil. Serve.