Beet curry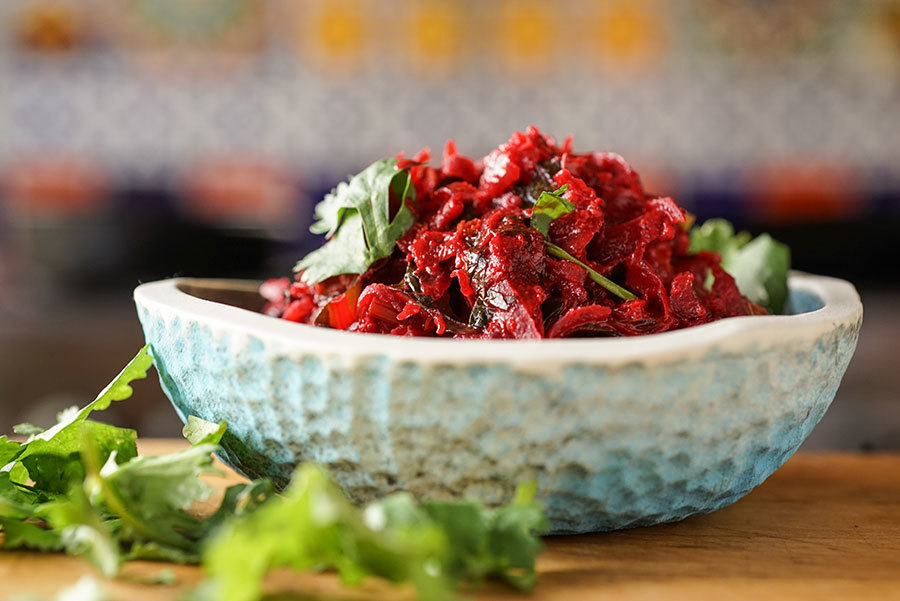 This beet curry is inspired by a Sri Lankan recipe. It may seem surprising, but in fact much of today's Sri Lankan cooking includes European vegetables, which were introduced by Scottish tea planters. Beets grow wonderfully in the high mountain air, where the best tea plantations are. If you want a spicier version, try this recipe with a Red Curry blend: It's delicious!
Ingredients
1 bunch beets with leaves attached
4 shallots
3 cloves garlic
2 Tbsp ginger
1 Tbsp Aleppo pepper
½ tsp fennel seed, ground
1 tsp Mauritian Masalé or other curry, ground
½ tsp cinnamon, ground
Chile flakes, to taste
4 Tbsp coconut oil
3 cups coconut milk
1 Tbsp fish sauce
Salt and pepper to taste
Cilantro for garnish
Method
1

Separate beets from leaves. Wash beets thoroughly, peel, and grate with a cheese grater. Sort beet greens and discard any discolored leaves. Chop leaves and stems finely.

2

Prepare curry paste by placing shallots, garlic, ginger, chilies, and spices in a food processor. Purée. If needed, add coconut milk or water.

3

Heat a large pot on medium-high. Add oil and curry paste and sauté until fragrant and cooked, about 5-7 minutes. Add coconut milk and fish sauce and bring to a boil.

4

Incorporate beets and chopped greens. Salt and pepper. Cook until vegetables are to your liking, around 10-15 minutes. Garnish with cilantro.