Bengali Mango Chutney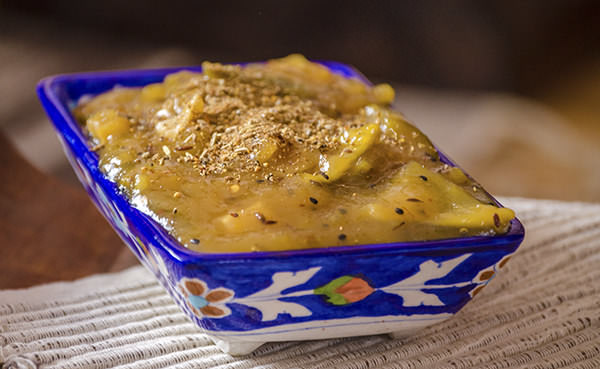 This chutney ably demonstrates the possibilities of Panch Phoran.  Slowly stir-fried in oil at the beginning of the recipe, then grilled and ground as a finishing touch.
It is best to use the small, green, very hard mangoes which are sold in Chinese or Caribbean groceries, as opposed to the poor, half-ripe ones usually found in supermarkets. In fact, most green, un-ripe, sour fruits are ideal for making chutneys, which contain no vinegar. For example, our green summer tomatoes or hard, un-ripe pineapples would make excellent chutneys.
Ingredients
1 lb un-ripe, green mangoes
1 Tbsp vegetable oil
2 Tbsp Panch Phoran
3 hot, dry chillies
1 cup natural, raw sugar
1 Tbsp sea salt
Method
1

Without peeling, wash the mangoes very well. Using a solid chef's knife or a Chinese cleaver, cut the mango into 1 inch pieces (2.5cm), chopping through the seed. Remove the interior white pith of the seeds, leaving the seed shell and the mango skins intact. Set aside.

2

Heat the oil on medium heat and slowly brown  2/3 of the Panch Phoran seeds with the chiles.

3

Add the pieces of mango in the pan to stop the spices from burning. Cover with water and add the sugar and salt.

4

Bring to a boil and cook slowly, uncovered until the chutney is thick and confit (about 1 hour), stirring regularly to insure that the chutney doesn't stick, especially at the end.

5

Meanwhile, grill the remaining Panch Phoran in a small, dry pan. As soon as the seeds begin to crackle, pour them in a mortar to stop the cooking process Grind and incorporate into the chutney prior to removing it from the heat.

6

Put the chutney into jars immediately.  This can keep for several weeks in the refrigerator.