Berbere Onion Rings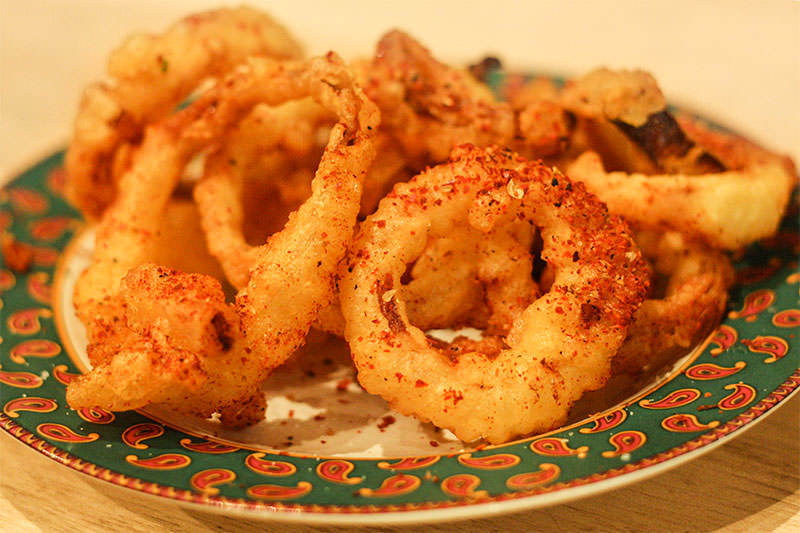 Berbere spices can make pretty much anything good, but they jive particularly well with light, sweet onions in a crunchy/chewy deep fried shell. The trick to making the most of the Berbere flavour is choosing a light, crisp beer that will let the spice work its magic, like a pilsner or a blond. This recipe was made with Sapporo, which is exceptionally light.
Ingredients
2 small onions, peeled
1 cup milk
1 bottle (341 mL) beer
2 cups plain white flour
1 tsp baking powder
1 tsp Ethiopian Berbere, ground
Salt to taste
Oil for deep frying (a good cup or two)
Method
1

Slice the onions into thin rings and put into a medium bowl, separating each piece as you go. Pour the milk over the onion rings and let soak for at least 20 minutes.

2

Spread ½ cup flour on a large plate and set aside.

3

In a medium bowl, whisk the rest of the flour with the baking powder, and add the beer slowly, whisking as you pour. The batter should be smooth and thick but offer little resistance to stirring.

4

Heat the oil in a large pot, wok, or deep fryer on medium heat until the oil is around 350 F/175 C.

5

While the oil is heating, remove the onions from the milk and dredge them in the flour. Once they are coated with flour, toss them in the batter and make sure they are evenly coated.

6

Fry the onion rings in batches. Using a fork or tongs, add a few at a time and fry until beginning to brown, about 5 minutes. Remove finished rings and place on a paper towel to soak up excess oil.

7

When all the onion rings are fried, sprinkle generously with salt and Berbere spices.