Berbere Spaghetti and Meatballs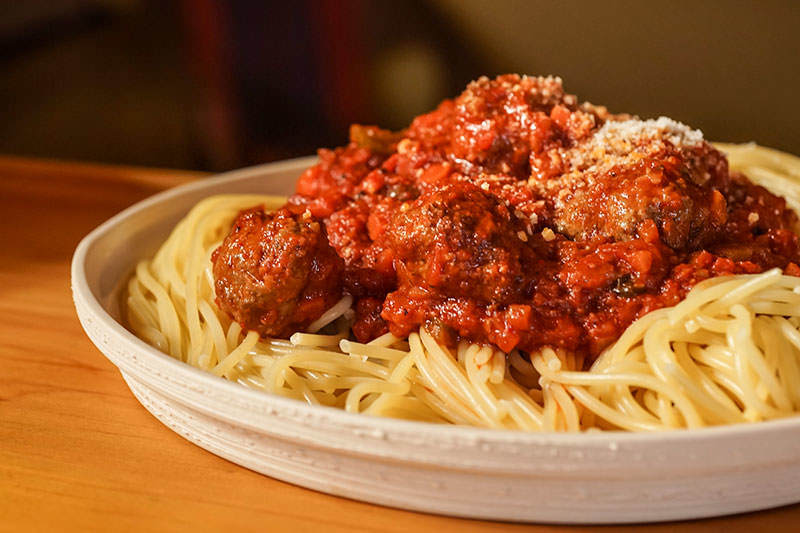 This is a simple adaptation of classic spaghetti and meatballs that can break up the daily routine while still remaining familiar. The meatballs will absorb some of the flavor from the sauce, so it's not necessary to season them too heavily. The meatballs are slightly more Ethiopian with lamb, but still delicious with beef.
Ingredients
2 Tbsp olive oil
1 large onion, chopped
2 small carrots, peeled and chopped
1 medium green bell pepper, chopped
3 cloves garlic, minced
1 Tbsp tomato paste
2 Tbsp Ethiopian Berbere, ground
Salt and pepper to taste
1 Tbsp red wine vinegar
2 cans stewed tomatoes
1 cup water or stock
Meatballs
2 slices of stale bread
Water
250 g (½ lb) ground beef
250 g (½ lb) ground lamb (500 g ground beef is fine too)
1 egg
1 tsp Worcestershire sauce
1 tsp oregano
Salt
Oil for frying
Method
1

Heat oil in a large pot over medium heat. Add the onion and fry until beginning to soften, about 2-3 minutes. Add the chopped carrots and fry for 2-3 minutes, then add the bell peppers. After the bell peppers begin to soften, add the garlic and fry for another minute or so.

2

When the vegetables are beginning to brown, add the tomato paste and coat them evenly. Continue to fry over medium heat until the tomato paste begins to brown. Add the Berbere spices, salt and pepper, stir, then add the red wine vinegar, tomatoes, and stock or water (you need enough to submerge the meatballs later). Let simmer for at least 30 minutes, adjusting seasoning as it cooks.

3


Meanwhile, make the meatballs. Soak the bread slices in water for a couple of minutes. In a large bowl, mix meat, egg, Worcestershire sauce, and spices together. When the bread is soggy, mix it in by mashing it with your hands. Make sure the ingredients are distributed evenly, then form into small balls (about 1 inch in diameter).

4


Heat oil in a large pan over high heat. Add meatballs and sear in batches, browning on each side but not cooking them all the way through, about 1-2 minutes. When the meatballs are ready, throw them in the sauce to finish cooking.

5


Allow the meatballs to simmer in the sauce for a good 30 minutes.