Bikaneri Bhujia - Indian Simmered Vegetables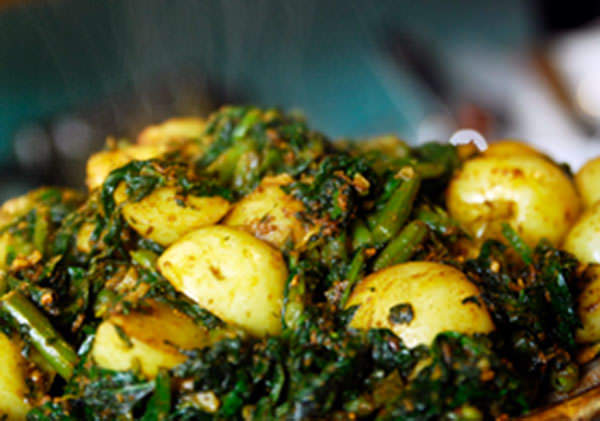 Bikaneri Bhujia is a mixed vegetable dish from the Indian province of Rajasthan.
In Indian cuisine, a tarka is a method of tempering whole spices briefly in oil or clarified butter (ghee). This technique liberates the aromatic oils from whole spices before incorporating them into the dish.
Ingredients
1 package spinach, chopped
1 lb green beans, washed
½ lb baby potatoes
Salt
Tarka
6 Tbsp ghee
1 tbsp cumin
1 tsp fenugreek
8 cloves garlic, chopped
8 slices ginger, julienned
2 onions, thinly sliced
Ground spices
Method
1

Cut beans in ½ inch pieces.

2

In a saucepan, place potatoes, spinach and beans. Add ¼ cup water and salt. Cover and cook for 15 minutes, until potatoes are al dente. Set aside.

3

In a frying pan, heat the ghee. Brown the cumin and fenugreek. Add garlic, reshampatti pepper and ginger. Cook 1 minute. Add onion and cook until brown (5-8 minutes).

4

With a mortar and pestle, grind the spices. Add vegetables and ground spices to the pan. Sauté 5 more minutes. Serve.