Jerk Bison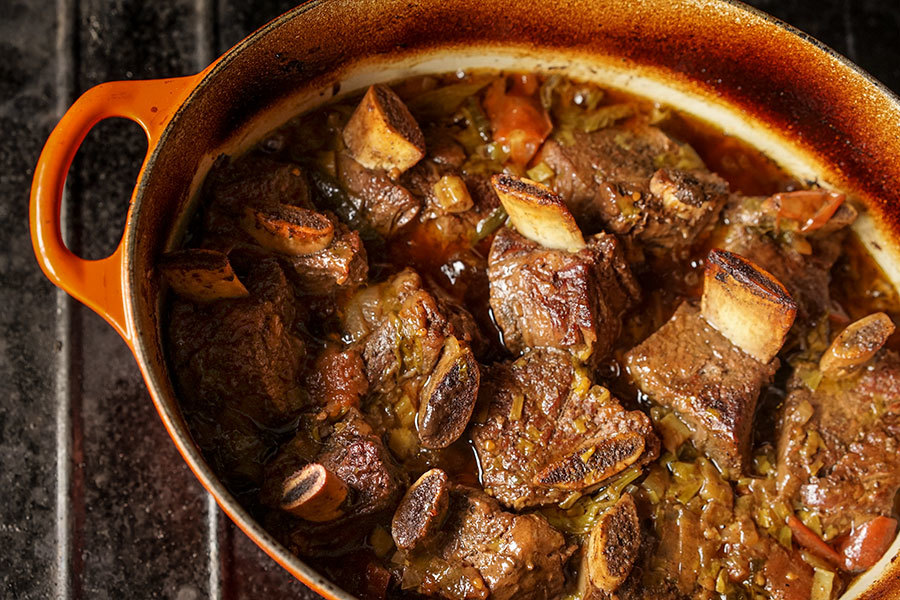 Like most braised dishes, Jerk Bison is better when reheated another day. You can easily replace the spices in the recipe for 2 tablespoons Jerk Spices.
Ingredients
2 kg Bison or beef rib roast
3 tsp thyme
1 tsp black pepper
1 tsp allspice
Salt to taste
4 Tbsp coconut oil
1 habanero or more to taste
1 bunch scallions
2 cloves garlic
2 onions
1 stalk celery
2 tomatoes
1 cups dark rum
2 Tbsp cider vinegar
2 Tbsp brown sugar (opt.)
Method
1

Preheat oven to 350°F. Grind spices. Season meat with half the spices and salt.  

2

Heat a cast-iron enamel pot on medium-low. Pour in oil and lightly color the meat until golden on all sides.

3

Chop vegetables and aromatics. Spread around the meat in the pot with remaining spices. Sauté for several minutes.

4

Pour rum, vinegar, sugar, and enough water into the pot to cover the meat halfway.

5

Let rest for 20 minutes before serving. Bring to a boil. Cover and braise in the oven for 2 hours, or until the meat is falling off the bone. Let stand 20 minutes before serving.