Bison with mandarin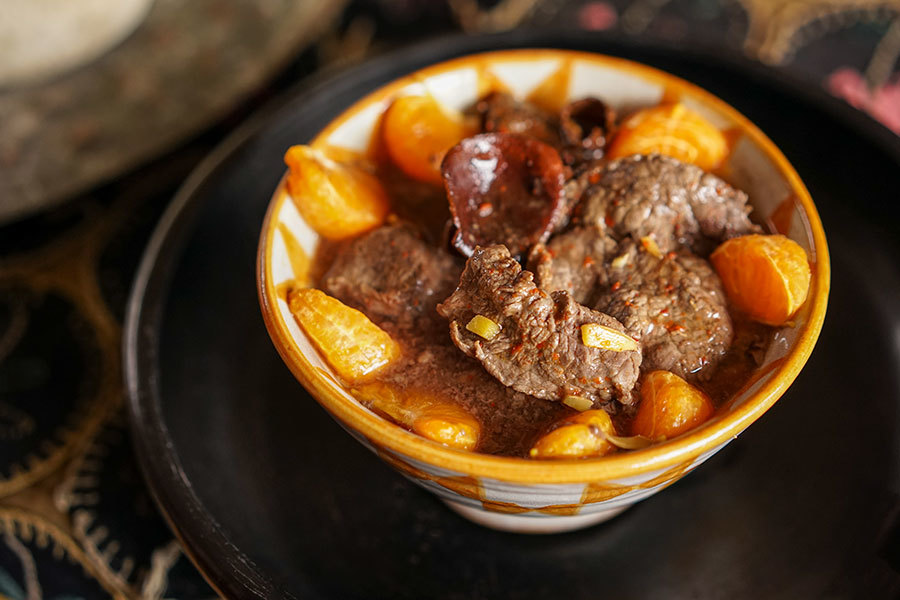 This steamed bison dish can be made with dry or fresh mandarin peels. If you use fresh, you should still quickly scald them.
Ingredients
2 Tbsp dried mandarin peel
1 lb bison/beef flank
4 Tbsp coconut aminos
2 Tbsp sherry or wine
1 tsp honey
½ cup chicken stock or water
1 Tbsp ginger, chopped
½ tsp Teja pepper flakes or Cayenne, ground
1 tsp salt
3 Tbsp arrowroot powder
12 mandarin orange segments
Lettuce leaves for garnish
Method
1

Place mandarin peel in a bowl and cover with boiling water. Drain and set aside.

2

Slice the flank in thin strips, against the grain, and place in a bowl with mandarin peel, coconut aminos, honey, sherry, chicken stock, chile, salt and arrowroot powder. Stir well and let stand 15 minutes, if you have the time. Place on a trivet over water boiling in a large pot and cook for 15 minutes.

3

Check that the meat is cooked. Cook longer if necessary.

4

Serve decorated with mandarin quarters, with lettuce leaves on the side to make little rolls.