Black beer onion soup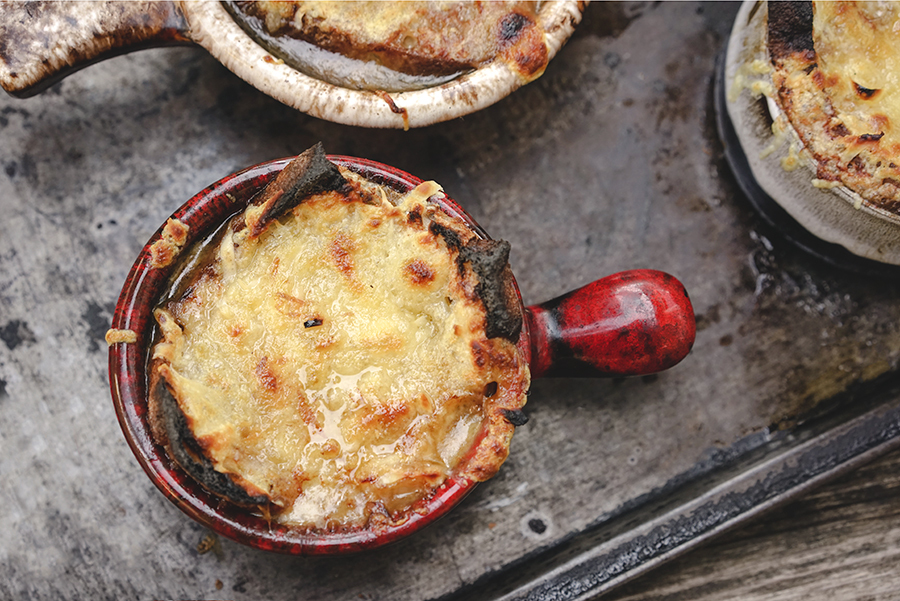 French onion soup with cheese is without a doubt a most comforting dish to help combat frigid winter days.
Ingredients
12 medium onions 
¼ lb butter
Salt, to taste
½ nutmeg, grated 
1 Tbsp thyme 
1 Tbsp black pepper, freshly ground 
1 bottle black beer (355 ml)
6 slices stale bread 
½ lb cheddar cheese, grated 
½ lb emmental cheese, grated 
Method
1

Peel onions and slice into half rings.

2

Heat a large casserole on medium with the butter.

3

As soon as the butter begins to melt, add half the onions. Mix and raise the heat slightly. Stir occasionally until the onions begin to sweat.

4

Incorporate the remaining onions with the salt and spices. Mix and continue cooking, stirring from time to time until caramelized and browned (20 to 30 minutes).

5

A dark brown, sticky crust will form at the bottom of the casserole, which will eventually lend a lovely colour to the soup. Be careful not to burn the bottom however, by using a spatula to scrape when mixing the onions. If needed, reduce the heat towards the end of the cooking. 

6

Pour the beer and 4 cups of water into the casserole. Bring to a boil and simmer for 30 minutes.

Heat the oven to 400 °F. Toast the bread on a baking sheet.

7

Mix the grated cheeses together.

8

Put a small handful of cheese at the bottom of each ramequin or gratin bowl.

9

Fill the bowls three-quarters full of soup and place a slice of bread on top. Cover generously with cheese.

10

Heat the oven and broil the soups.

11

Serve immediately.