Boeuf à la Ficelle with Kabsa Spices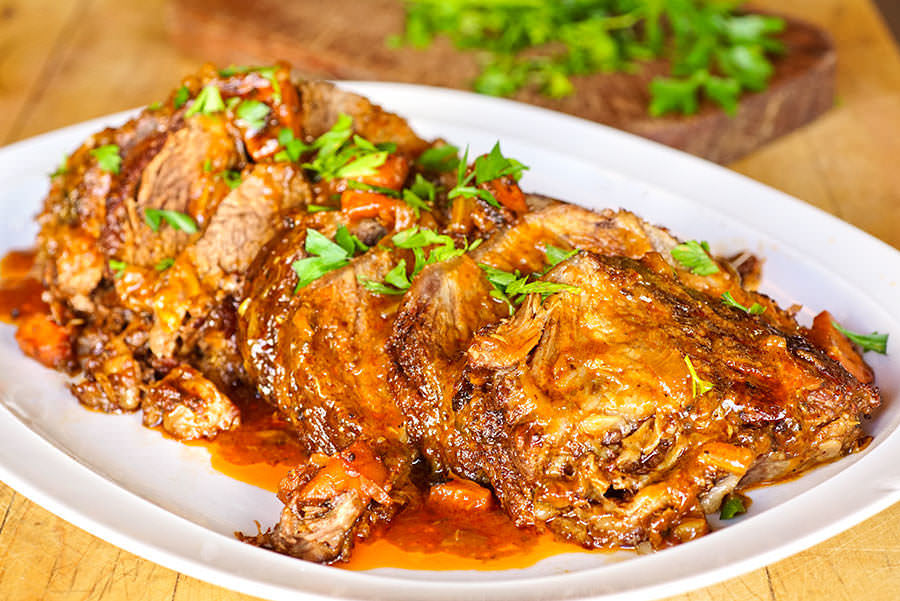 A true comfort food, one of the great grandmother dishes, revisited thanks to this Middle Eastern spice blend. It's important to tie the roast tightly so the meat will be easier to slice.
Ingredients
1 5 lb pot roast (chuck, rump, etc.)
4 Tbsp. Kabsa spice blend, ground
3 feet butcher's twine
6 Tbsp. olive oil
1 onion
1 medium carrot
2 stalks celery
6 cloves garlic
¼ cup tomato paste
Salt, to taste
4 Tbsp. butter
4 Tbsp. flour
Fresh parsley or cilantro, for garnish
Method
1

Sprinkle half the spices around the beef. Rest in the fridge for a few hours (ideally 12). Tie the beef up tightly so it holds together.

2

Preheat the oven to 350°F.

3

Put a pot on medium heat. Pour in the oil and brown the beef on all sides (10-12 minutes).

4

Meanwhile, chop the vegetables.

5

Remove the beef and add the vegetables to the pot. Cook for 5 minutes, stirring often.

6

Add the tomato paste, salt, and remaining spices. Fry, stirring constantly, for another 2-3 minutes.

7

Return the beef to the pot and pour over enough hot water to cover the meat half way.

8

Bring to a boil, then cover and place in the oven. Cook for more 2 hours until the meat becomes tender.

9

Meanwhile, melt the butter over low heat in a small pan. Add the flour and cook the roux for another 2 minutes, without browning it, stirring constantly. Pour the roux in a small bowl and set aside.

10

When the meat is cooked, remove it from the pot and set aside. Put the pot on medium heat.

11

Add the roux and mix well, until the sauce begins to simmer and thickens nicely.

12

Slice the meat. Leave it on a plate. Pour the sauce over it and garnish with parsley or cilantro.