Mississippi Roast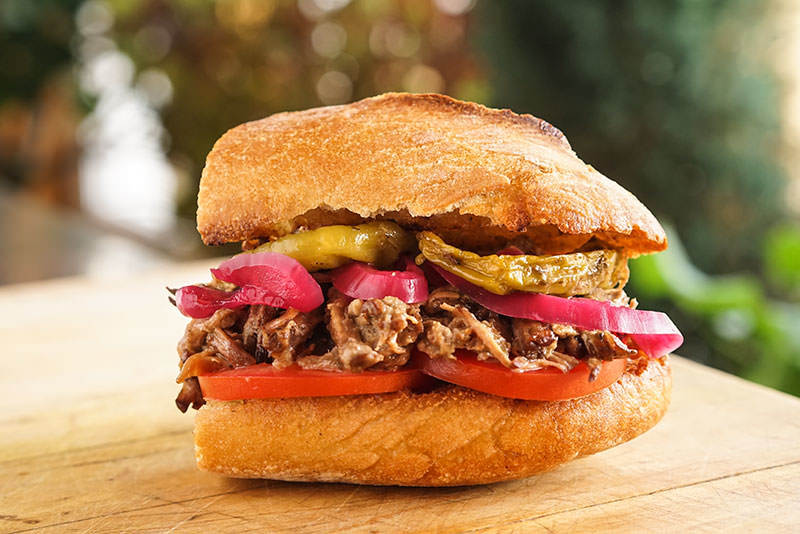 Our version of the church picnic classic created by Robin Chapman and adapted around the US. Here the packet of artificially flavoured ranch seasoning is replaced by mayo, vinegar, and ranch spices. You can add a little yogurt or even buttermilk for an added tang. It's important to ensure the meat is heavily coated in flour before searing- this will make the dark brown crust that will eventually form the flavour base of the sauce.
Ingredients
1 3-4 lb. Chuck roast
Pinch salt and pepper
Ample flour for coating (about ¼ cup)
3-4 Tbsp oil
2 Tbsp mayonnaise
2 Tbsp apple cider vinegar
1 Tbsp plain yogurt (opt.)
2 Tbsp Ranch spice blend
1 Tbsp liquid from pepperoncini jar
12 Pepperoncinis in brine
½ stick butter
Method
1

Sprinkle salt and pepper on beef, then coat in thick, even layer of flour.

2

Add oil to a large pan and place over high heat. Sear the meat on all sides until the flour forms a crust.

3

Remove roast from heat and place in slow cooker. Put cooker on low.

4

In a bowl, mix mayo, vinegar, yogurt, spices, and some liquid from the pepperoncini jar. Stir until the dressing is smooth.

5

Pour the dressing on top of the beef, then add the pepperoncinis. Place the butter on top. Cover with the lid and cook for at least 6 hours, depending on the size of your roast.

6

When the beef is fork tender, mix it with the butter, juice, and sauce that remains in the cooker. Serve hot.