Borscht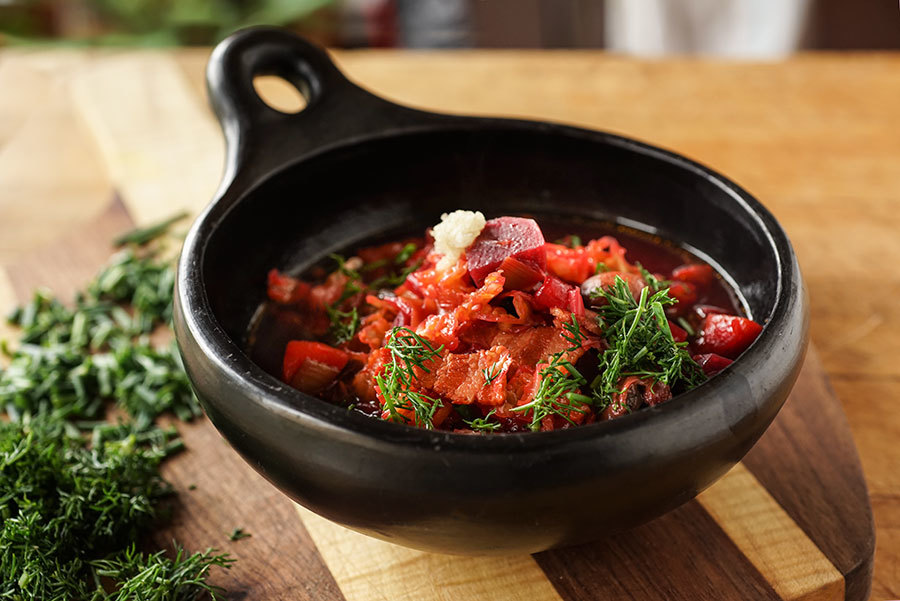 You can make this recipe with any kind of root vegetable, depending on the season, but you absolutely must use beets and cabbage. If you can get your hands on any wild mushrooms, dried or fresh, the borscht will be even more tasty.
Ingredient
4 slices bacon
4 Tbsp duck fat
3 medium onions, chopped
2 stalks celery, chopped
1 carrot, diced
1 Tbsp black pepper, cracked
1 cup dill or parsley, chopped
4 Tbsp tomato paste or 2 tomatoes
3 cups beets
1 cup cabbage
1 cup turnips
1 cup mushrooms
1 cup parsley roots or parsnip
1 cup celery root
8 cups meat stock or water
6 Tbsp cider vinegar (opt.)
Salt and pepper to taste
1 cup dill, chopped
1 cup chives, chopped
Method
1

Slice bacon into wide strips. Place in a large pot with duck fat, onion, celery and carrot. Sauté for 12 minutes on medium-low heat.

2

Add bay leaf, pepper, dill, and tomato paste and sauté five minutes more.

3

Meanwhile, chop vegetables into ½-inch dice. Add stock and prepared vegetables to the pot. Increase heat to maximum and bring to aboil. Reduce heat and simmer for 20 minutes.

4

Pour in vinegar. Taste, add salt and pepper. Garnish with dill and chive when serving.