Braised Cretan Lamb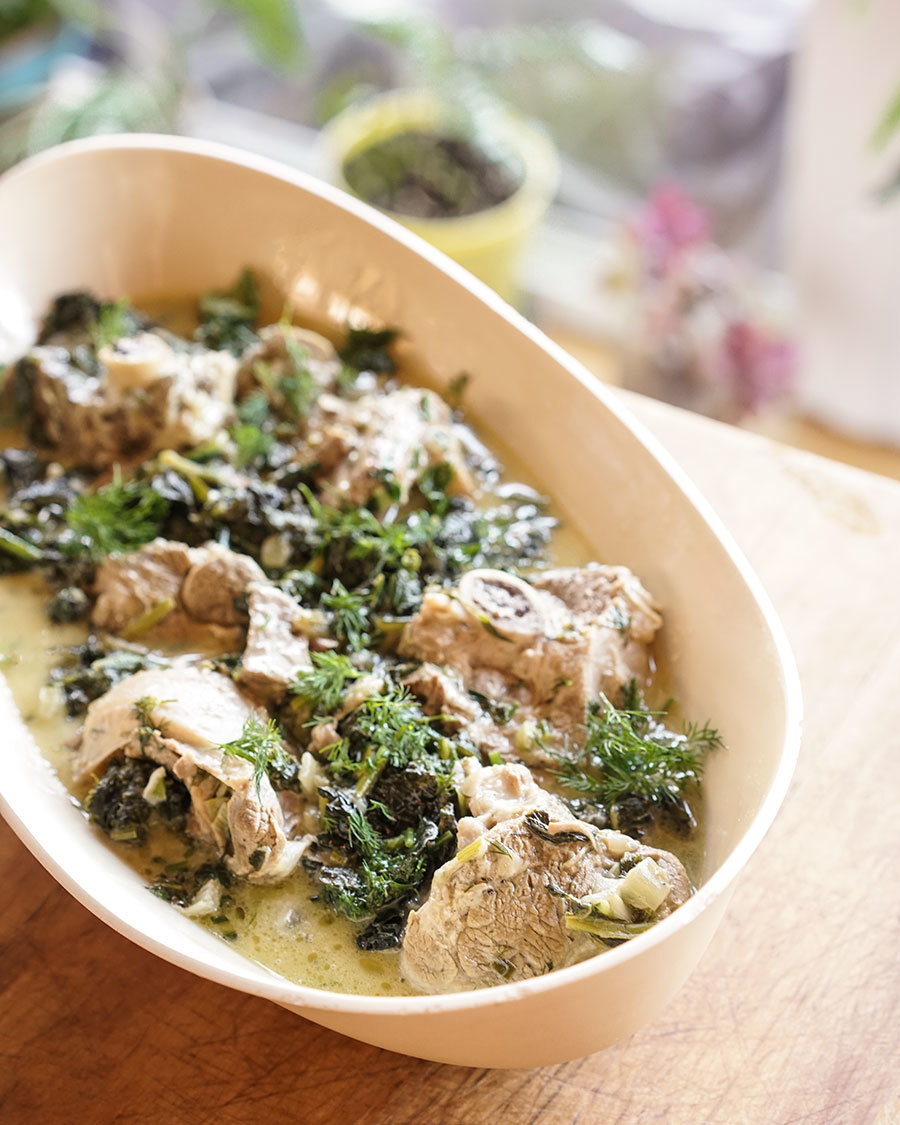 This dish threw us for a loop when we first tasted it during a trip to the mountains of Crete. The lamb is confit in olive oil, as opposed to being browned in a pan. Don't be alarmed by the amount of oil called for in the recipe, that is in fact what give this dish its depth. 
In Greece, it is common to harvest « hortas » - herbs that grow wild in the hills, as well as other « weeds » that sprout in and around vegetable gardens – and cook them as you would spinach. 
In Québec, we are surrounded by wild herbs, we must simply learn and become accustomed to harvesting them. We buy and throw away many wonderful cultivated leaves such as; beet root, radishes, fennel, parsley and dill stems, mint,…
Ingredients
5 lbs lamb shoulder, cut in 3-inch X 3-inch pieces  
5 medium onions, chopped 
2 cups olive oil 
1 Tbsp sea salt
1 Tbsp Greek oregano 
Black pepper, to taste 
1 bunch dandelion greens, blanched 
1 bunch kale leaves, blanched 
1 pack large spinach 
1 bunch Swiss chard   
1 large bouquet dill, chopped 
1 bouquet fresh mint, chopped 
Juice of 6 lemons (1 cup) 
6 egg yolks
Method
1

Place lamb, chopped onions, olive oil, salt, oregano and pepper in a large pan. Place on medium heat until the meat blanches without browning (5-8 minutes).  

2

Add enough boiling water to cover barely. Bring to a boil. Cover and simmer on low heat until the meat is tender, about 1 hour to 1h15.  

3

Roughly chop all leaves. Delicately incorporate all blanched leaves and place the spinach and Swiss chard on top. Cover and cook for 5 minutes. 

4

When the raw leaves are cooked, add dill and mint and mix lightly in the pan. In the meanwhile, beat yolks with lemon juice in a bowl.  

5

Gradually incorporate two or three ladles of the cooking liquid into the bowl with eggs to temper the mixture, then pour evenly into the pan.

6

Shake the pan in a circular motion for about 2 minutes to incorporate and emulsify the sauce. Do not stir with a spoon.

7

Remove from the heat and let rest, uncovered for 10 to 15 minutes before serving.