Braised Swiss Chard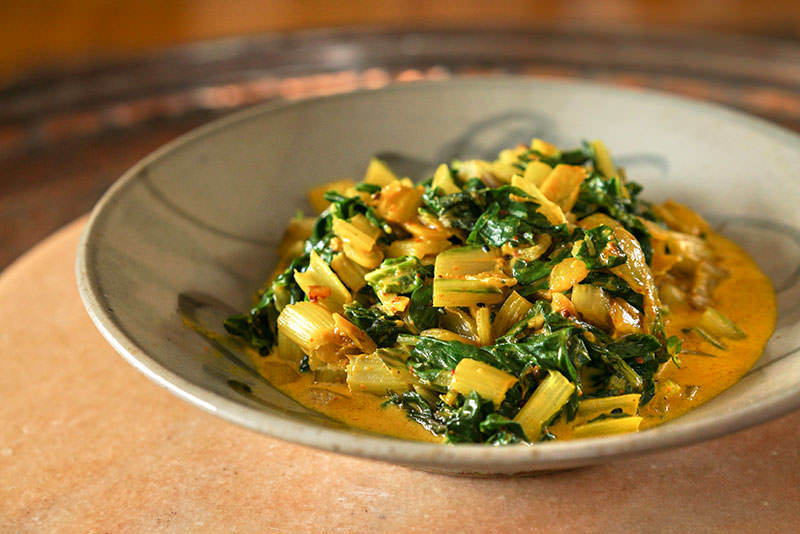 A South Asian-inspired solution for Swiss chard that works with just about any All-Purpose blend. 
Ingredients
1 large bunch chard
1 large onion, chopped
4 Tbsp coconut oil
2 cloves garlic, chopped
1 Tbsp ginger, chopped
1 tsp turmeric, ground
Maras or other pepper, to taste
Fresh ground black pepper
1 Tbsp vegetable spice or Panch Phoran
2 Tbsp tomato paste
½ cup coconut paste, grated
Salt 
Method
1

Clean and rinse the Swiss chard. Separate the stems and leaves. Dry the leaves in a salad spinner or on a paper towel.

2

Cut the stems in ¾ inch sections. Chop the leaves roughly.

3

Heat a large, thick-bottomed pot over medium. Add the onion and oil and cook until the onion just begins to soften and smell.

4

Add the garlic, ginger, turmeric, Maras pepper, pepper, and spice blend. Stir well and cook for one minute.

5

Add the Swiss chard stems and tomato paste. Cook, stirring occasionally, until the chard stems are soft (4-5 minutes).

6

Add the chopped leaves, coconut milk, coconut paste and salt. Continue to cook, stirring on occasion, until the leaves are well cooked and simmering in a light, satiny sauce.