Brussel Sprouts and apple salad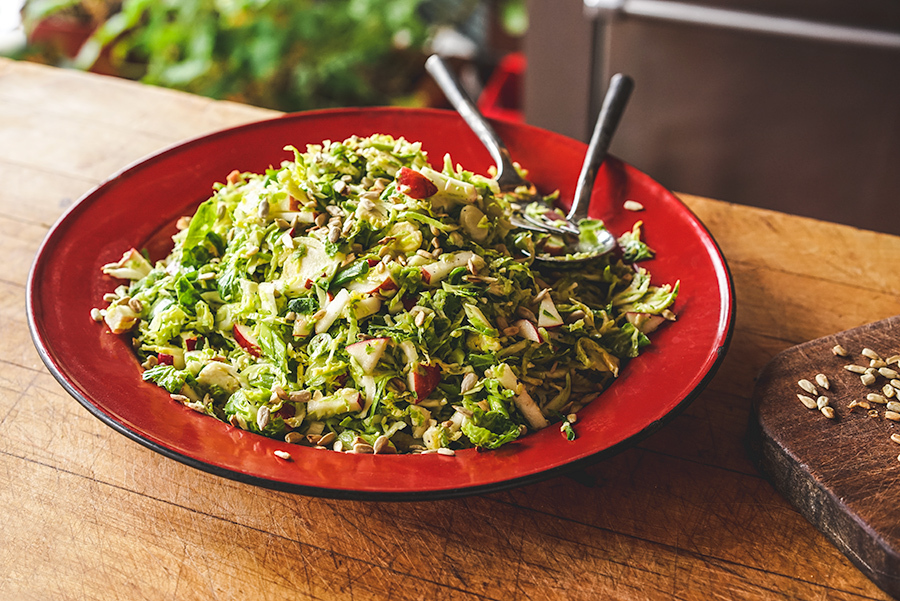 Raw Brussels Sprouts are an excellent foundation for this apple-garnished, sunflower seed salad. Along with its vinaigrette made using local ingredients such as maple syrup, Bas-du-Fleuve salted herbs and camelina oil, it's truly a unique and delicious accompaniment.
Ingredients
4 cups Brussels Sprouts (about fifteen sprouts, according to size)
2 green onions
1 large apple, cut into matchsticks
4 Tbsp sunflower seeds, roasted
Vinaigrette
3 Tbsp cider vinegar
½ Tbsp Salted Herbs
½ tsp maple syrup
½ Tbsp Dijon mustard
Pepper, to taste
¼ cup camelina oil OR sunflower seed oil
Method
1

Mix all vinaigrette ingredients, except oil. Infuse for 5 minutes then add oil. Mix well.


2

Slice sprouts using a blender or a knife. Slice green onions evenly.

3

In a large bowl, mix sprouts, shallots and apple sticks. Add vinaigrette and mix well.

4

Garnish with sunflower seeds and serve.