Brussels Sprouts with Bacon and Balsamic Vinegar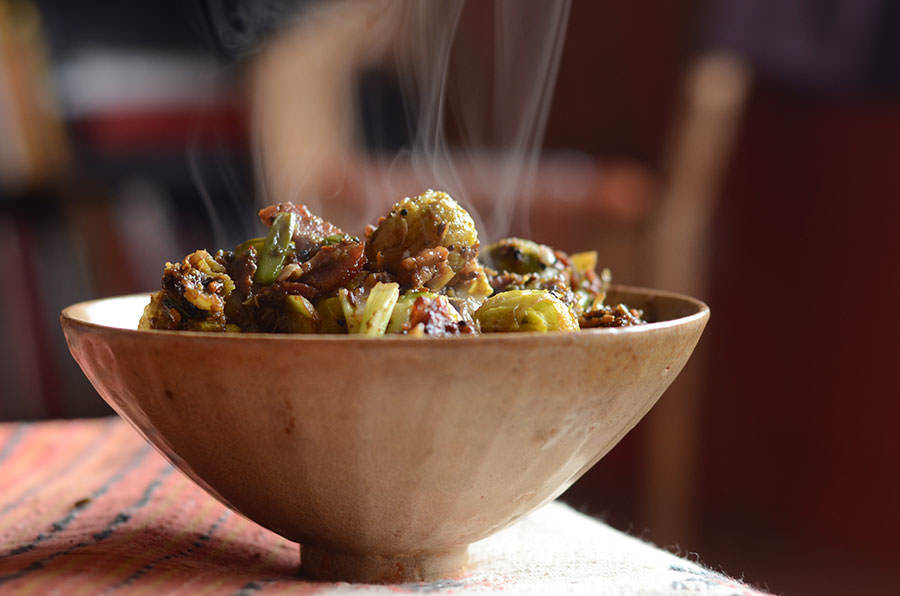 Panch Phoran is a savory and slightly bitter blend that is highly versatile. This recipe uses the blend to its full advantage. You can substitute the Brussels sprouts for kale or green cabbage.
Ingredients
4 cups Brussels sprouts
3 Tbsp olive oil
 ½ tsp Panch Phoran
2 slices bacon, cut in small pieces
2 cloves garlic, chopped
2 Tbsp balsamic vinegar
Black pepper, to taste
Method
1

Cook Brussels sprouts in salted, boiling water until al dente (7 to  8 minutes).

2

With a colander, drain sprouts and let sit. Do not rinse.

3

Heat a frying pan to medium heat. Brown Panch Phoran in oil for 20-30 seconds. Add bacon and garlic. Cook one minute, stirring constantly.

4

Add Brussels sprouts to frying pan mixture and cook several minutes. Keep stirring.

5

Add vinegar and pepper. Cook one minute more. Serve.