Balsam fir tips and lemon Yule log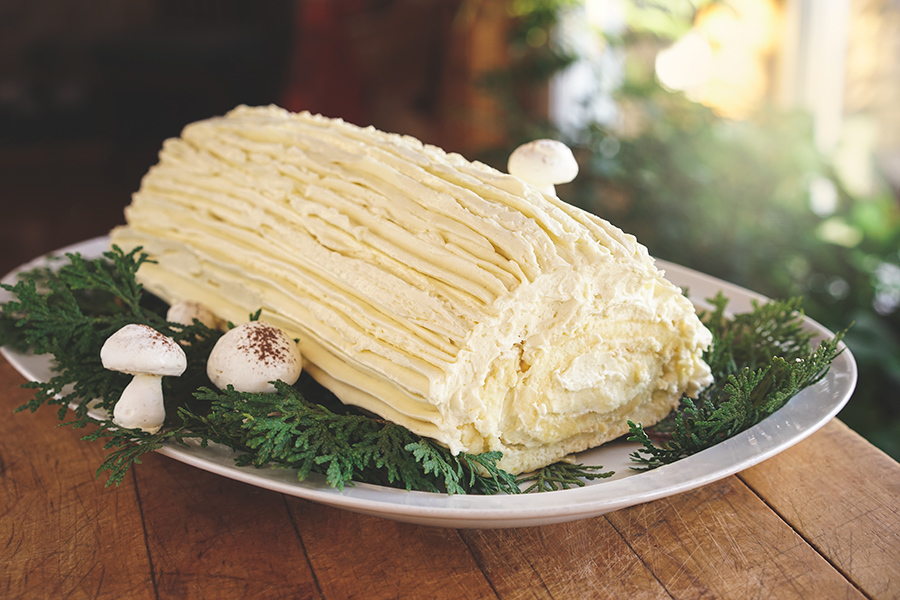 This fragrantly decadent yet delicate Yule log is a fitting and refreshing way to conclude a Holiday meal. The young spruce tips are very aromatic without bitterness and compliment the acidity of the lemons. Serves 10 to 12 guests. 
Lemon curd
1½ cups sugar
4 large eggs
Zest and juice of 3 lemons
½ cup un-salted butter
Generous pinch of salt
Whipping cream
1 cup 35% very cold whipping cream
2 Tbsp sugar
Balsam fir tips icing
¾ cup milk
2 Tbsp Balsam fir tips
½ cup sugar
3 Tbsp cornstarch
2 small eggs
1¼ cup un-salted butter at room temperature 
Cake
5 large eggs
1 cup sugar
4 tsp vegetable oil
2½ Tbsp buttermilk
1 cup flour
1¼ Tbsp baking powder
¼ tsp salt
Icing sugar to sprinkle on cake before rolling
Lemon Curd
1

Place all the ingredients in a casserole and cook on medium heat, mixing continuously until preparation thickens, approximately 10 minutes.
Whipping cream
1

Whisk cream and sugar until peaks form.
Balsam fir icing
1

Pour milk into a large casserole, bring to a boil on high heat. Remove casserole from heat source.


2

Add fir tips, cover and infuse for at least one hour.

3

Filter milk, throw out fir tips and reheat milk until it simmers anew.


4

In another casserole, mix sugar and cornstarch, then incorporate eggs using a whisk.


5

Pour about 1/3 of the hot milk on egg preparation to heat, whisk well to homogenize the blend. Repeat the process two more times and mix well.


6

Heat preparation on medium until thick and boiling, cook another 2 minutes.


7

Spread preparation on a baking sheet, cover with saran wrap and let cool thoroughly.


8

Whisk butter until creamy in a mixing bowl then add cool preparation, 1 Tbsp at a time. 


9

When preparation is well incorporated into butter, whisk at high speed until blend becomes light and creamy.
Cake
1

Preheat oven to 350 °F. Oil a baking sheet and line with parchment paper. 

2

Beat eggs and sugar in a blender at high speed until voluminous and pale in colour.

3

While whisking, add oil and buttermilk. 

4

In another bowl, mix flour, baking powder and salt.


5

Using a strainer, sprinkle dry ingredients on egg and sugar preparation, then beat until dry ingredients are incorporated.


6

Spread blend on to a cookie sheet using a spatula. 

7

Cook in the middle of oven for 15 minutes, or until a toothpick is clean after insertion into the middle of the cake.  

8

As soon as cake is warm enough to handle, sprinkle presentation side with icing sugar. 

9

Slide a knife blade between cake and baking sheet to unstick sides, then un-mold onto a clean towel.

10

Remove parchment paper, then sprinkle the surface with icing sugar.


11

 Using a towel, roll cake and leave in towel for at least one hour to take shape as a log.
Assembly
1

Unroll cake, taking care not to apply any garnish 1 centimeter from the edge, spread lemon garnish, then whipping cream. 

2

Roll cake to fashion a Yule log then transfer to a serving dish. 

3

Evenly spread icing on log, using a fork trace lines imitating tree bark.


4

If desired, decorate with meringue mushrooms (see recipe).