Buckwheat, dark chocolate, blueberry tart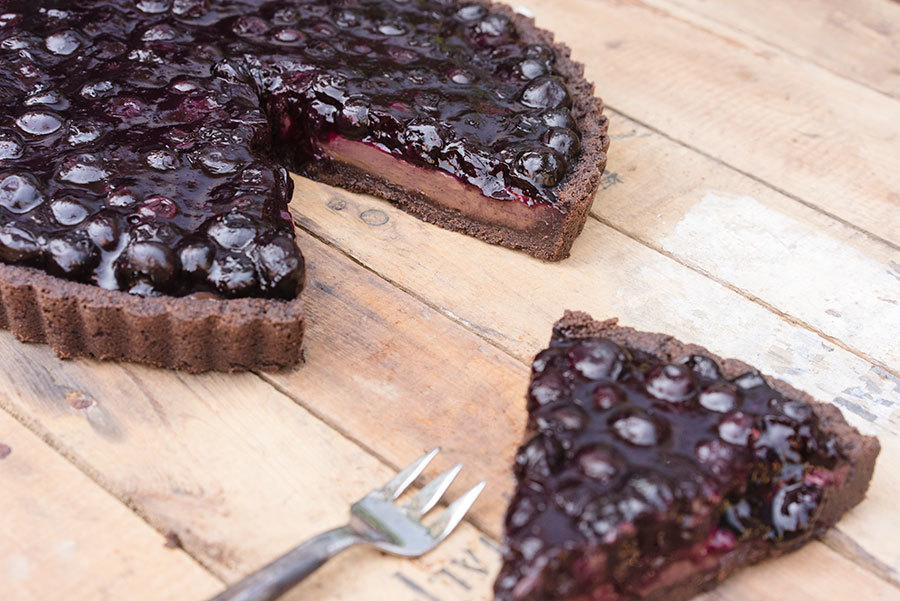 A fancy, not too sweet dessert that's gluten free!
Crust
1 cup buckwheat flour
¼ cup cocoa powder
¼ tsp salt
½ cup un-salted butter, at room temperature
¾ cup brown sugar
Ganache
1 cup dark chocolate, chopped (approximately 175 gr)
1 cup 35% cream
Blueberry garnish
½ cup sugar
3 Tbsp cornstarch
Juice of half lemon
2 tsp coriander, freshly ground
3 cups blueberries
Crust
1

Preheat oven to 375 °F and place the grill in the center.

2

Lightly oil a 9-inch, tart pan with removeable bottom.

3

In a bowl, mix all the dry ingredients together.

4

In a separate bowl, cream together the butter and brown sugar.

5

Incorporate the dry ingredients into the butter and brown sugar to make a homogenous paste.

6

Press the dough into the pie pan making an even crust that's approximately 1 cm thick.

7

Cook for 15 to 20 minutes, allow to cool on the grill, set aside.
Ganache
1

Place the chocolate in a heat resistant bowl. Set aside.

2

Pour the cream into a small pan and bring to a boil. Remove immediately from the heat.

3

Pour the cream on the chocolate and let rest, without mixing for one or two minutes.

4

Whisk the ganache until it becomes smooth and homogenous in texture. Set aside at room temperature.
Blueberry garnish
1

In a pan, mix the sugar, cornstarch, coriander and lemon juice.

2

Add the blueberries and cook on high heat, mixing continuously (delicately, so as not to crush the blueberries) until the preparations thickens and coats the back of a spoon.

3

Cover and set aside at room temperature.
Assembly
1

Pour the still warm and manageable ganache on the crust then refrigerate until it becomes solid (approximately 1 hour).

2

Pour the blueberry garnish on the tart then spread evenly using a spoon or a spatula.

3

Refrigerate the tart for about one hour before serving, allowing the garnish some time to set.
Coriander and blueberries – a surprising combination
Adding freshly ground coriander intensifies the fragrance of cooked blueberries, but not enough to overtake the taste of the tart itself. Obviously, the distinctive lemony richness of coriander helps to perk up the flavour of the berries!