Butter Chicken from the Dhabas of Amritsar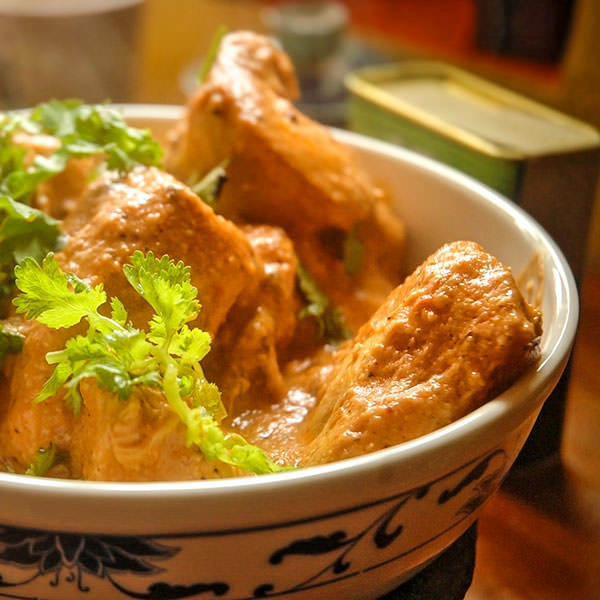 Somewhat more peppery and hot than traditional butter chicken. Nevertheless, the fragrances of this rendition are nothing short of rapturous.
Ingredients
1 chicken, quartered
7 oz. yogurt
10 cloves garlic, chopped
1-inch piece fresh ginger, chopped
3 Tbsp Butter chicken masala, ground
Salt, to taste
3 oz. ghee or butter
2 tomatoes, diced or 3/4 cup canned tomatoes
1 cup cream
4-6 Tbsp cold butter, diced
4 tbsp cilantro
1 Tbsp Garam Masala (opt.)
Method
1

In a bowl, combine the chicken with the yogurt, garlic, ginger, Butter chicken masala and salt. Marinate for 1-48 hours.

2

In a frying pan, melt the ghee and sauté the marinated chicken for 12-13 minutes.

3

Add tomatoes and cook for 5 minutes more.

4

Add cream and, if desired, salt. Simmer for 5 minutes. Incorporate butter cubes one by one while mixing.

5

Garnish each portion with a sprinkle of garam masala and chopped cilantro. Serve.