Butternut Soup with Popcorn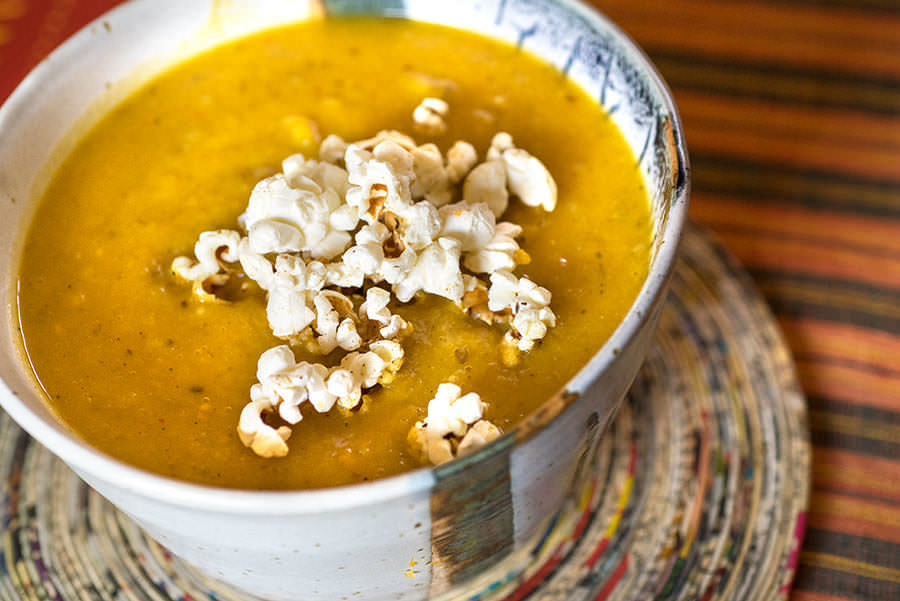 Contrary to most Indian masalas, Sri Lankan Red Curry does not contain any turmeric. In fact it is the wonderful medium-hot, roasted red chillies that give this curry its name.
Ingredients
1 butternut squash, peeled and seeded
4 bosc pears
1 while or Vidalia onion
3 Tsp olive oil
Salt and pepper
4 cups vegetable stock or water
½ cup 2% plain yogurt
1 tsp cinnamon, ground
½ tsp ginger, ground
Grated nutmeg, to taste
3 tsp Sri Lankan Red Curry, ground
3 Tbsp coconut oil
1/3 cup popcorn kernels
Method
1

Preheat oven to 375°F.

2

Cut the squash, pears and onions into 2 cm pieces. Place them on a baking tray and coat in oil, salt and pepper. Roast for around 25-30 minutes until softened.

3

Place them in a food processor with the stock, yogurt, cinnamon, ginger, nutmeg, 2 tsp. red curry and purée.

4

Transfer to a large pot over medium heat.

5

In a large pot on medium heat, add the coconut oil and corn kernels. Cover and wait until the kernels have completely popped. Turn off the heat and season with the rest of the red curry.

6

When serving, garnish each portion of soup with a few pieces of spiced popcorn.