Pork ribs with garlic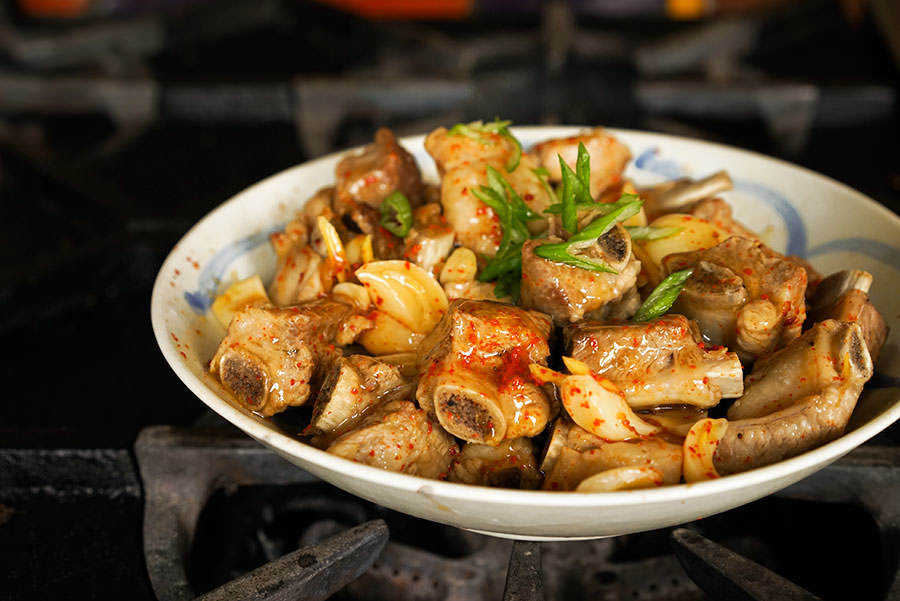 A classic Cantonese dish that's always a hit.
Ingredients
1 lb pork ribs
15 cloves garlic
¼ cup sherry or white wine
4 Tbsp coconut aminos
1 tsp Tianjin preserved vegetable
2 Tbsp fresh ginger, julienned
½ tsp Reshampatti pepper or Cayenne
2 Tbsp arrowroot powder
½ tsp sesame oil
1 small bunch garlic chives or scallions
Method
1

Bring 6 cups of water to a boil in a pot. Chop ribs roughly and boil pork and garlic for 5 minutes. Drain into a colander and rinse in cold water.

2

Lay on a plate or in a bowl that can fit in a wok or pot. Place meat and garlic in a bowl or on a plate that will fit in the pot. Add sherry, coconut aminos, Tianjin preserved vegetable, ginger, and chile. Add just enough water to cover it and stir.

3

Place on a trivet over water boiling in a large pot. Cover the pot and cook for 30 minutes. Check that the meat is cooked with a small knife. It should be tender. Cook longer if necessary.

4

Boil the cooking juice. Dilute arrowroot powder into 4 Tbsp water. Remove pot from heat, add the arrowroot solution, and stir continuously. Add sesame oil, boil for 10 more seconds and pour on top of the meat. Garnish with sliced garlic chives.