Cabbage and Meatball Soup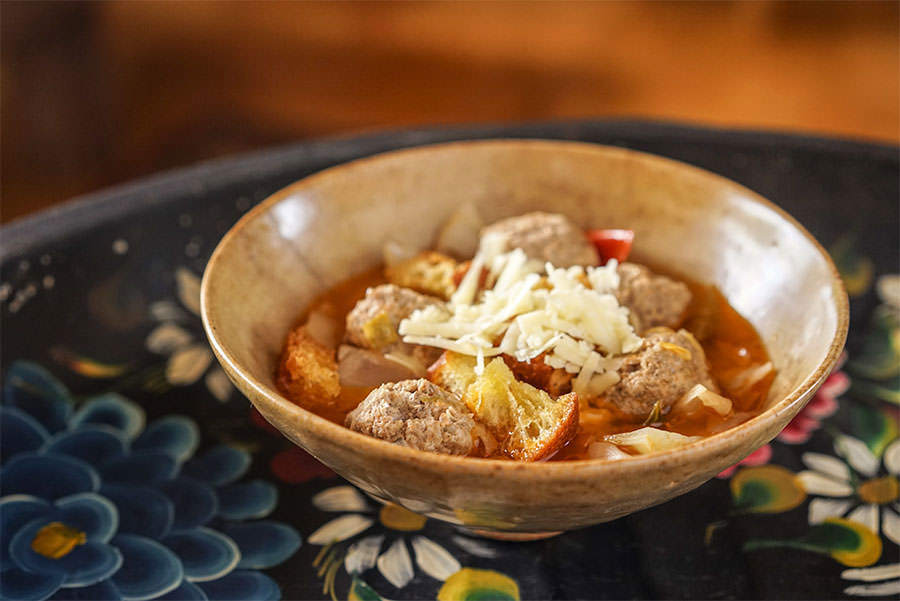 A comforting soup enhanced by Creton spices. Serve it with grated cheddar cheese and dark, toasted croutons.
Meatballs
4 slices bread
¼ cup milk
1 lb ground pork
1 lb ground beef
1 onion, chopped fine
1 Tbsp Creton spices, ground
1 Tbsp salt
1 egg
Cabbage Soup
¼ cup olive oil or duck fat
2 leeks
3 onions
2 red peppers
6 medium tomatoes
3 Tbsp tomato paste
1 Tbsp sage
Salt and pepper to taste
1 medium cabbage
Method
1

Remove crust from bread and discard. Soak bread in milk for 5 minutes.

2

Mix the soaked bread, meat, onions, Cretons spices, salt, and egg in a bowl. Shape them into balls around 1 inch in diameter.

3

Heat olive oil in a large pot with all the vegetables except the cabbage. Add tomato paste, sage and bay leaf. Sauté for 10 minutes.

4

Add cabbage and cover generously with water. Boil for 5 minutes.

5

Add meatballs. Reduce heat and poach meatballs for around 20 minutes.