Caillettes hand-pressed sausage patties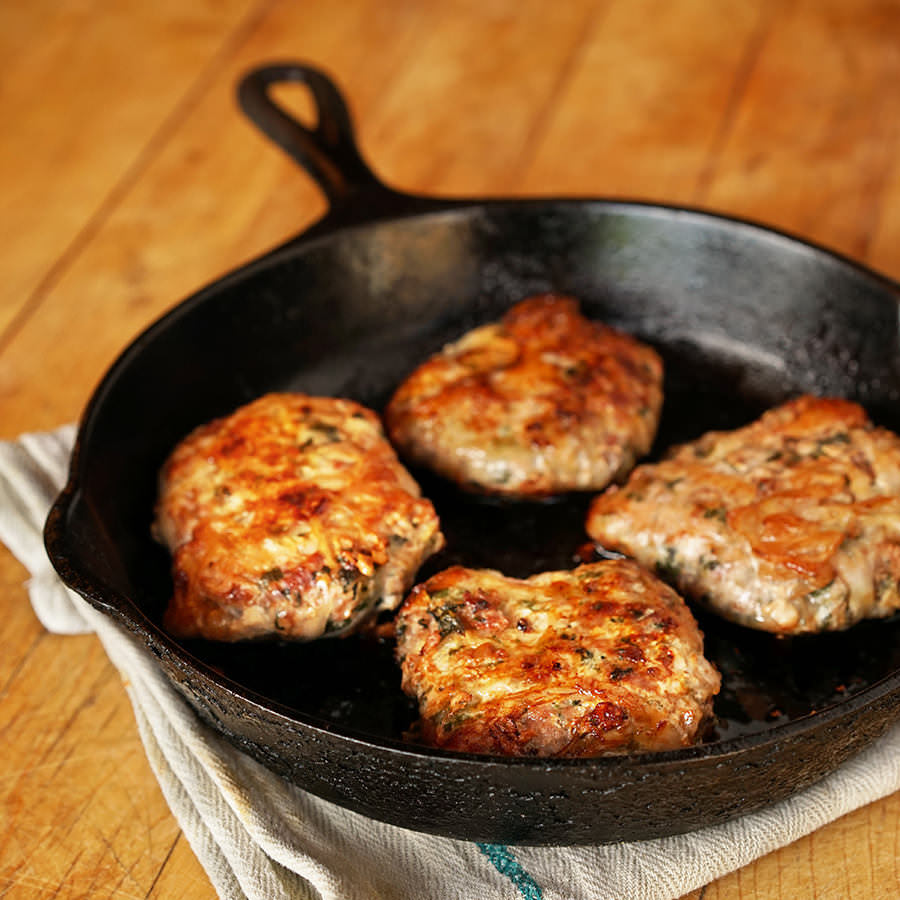 Caillettes are sausages stuffed with vegetables and wrapped in caul fat. They can be made with spinach, leek, cabbage or even mushrooms. A great way to eat more vegetables! Caul fat or crépine usually needs to be ordered from the butcher in advance. If you really want to get into sausage making, we recommend buying a lot of caul fat; it keeps in the freezer for a long time.
Ingredients
1 bunch Swiss chard
¼ lb chicken liver and/or heart (opt.)
2 lbs fatty pork, ground
1 Tbsp sea salt
1 tsp pepper, moulu
6 allspice berries, ground
1 tsp thyme
2 cloves garlic, minced
¼ cup red wine
½ lb caul fat (opt.)
Method
1

In a large pot, bring 8 cups water to a boil.

2

Finely chop Swiss chard; boil for 3 minutes. Drain in a colander and cool in running water. Squeeze as much water as possible from the chard by forming it into balls and firmly pressing it with your hands.

3

Finely chop liver with a knife or food processor. Thoroughly work salt into the ground meat, at least 2 minutes, in a large bowl.

4

Place chard, pepper, allspice, thyme, garlic and wine in the bowl. Mix well with your hands until mixture is consistent.

5

Divide blend into 15 (more or less) even balls. Unravel caul fat and spread out evenly on the counter. Cut into a square, approximately 8 x 8 inches. Place a ball on top, flatten, then wrap into a little packet with the caul fat. Repeat with each sausage ball. Place on a tray and cover with plastic. Refrigerate for 24 hours before cooking.

6

If you do not have caul fat, make between 12-15 flattened patties and refrigerate for 24 hours.

7

Cook sausages for around 20 minutes in a large pan on medium heat or in an oven preheated to 350°F. Serve with mustard or finish cooking in tomato sauce. Caillettes are also good cold.