Cajun blackened fish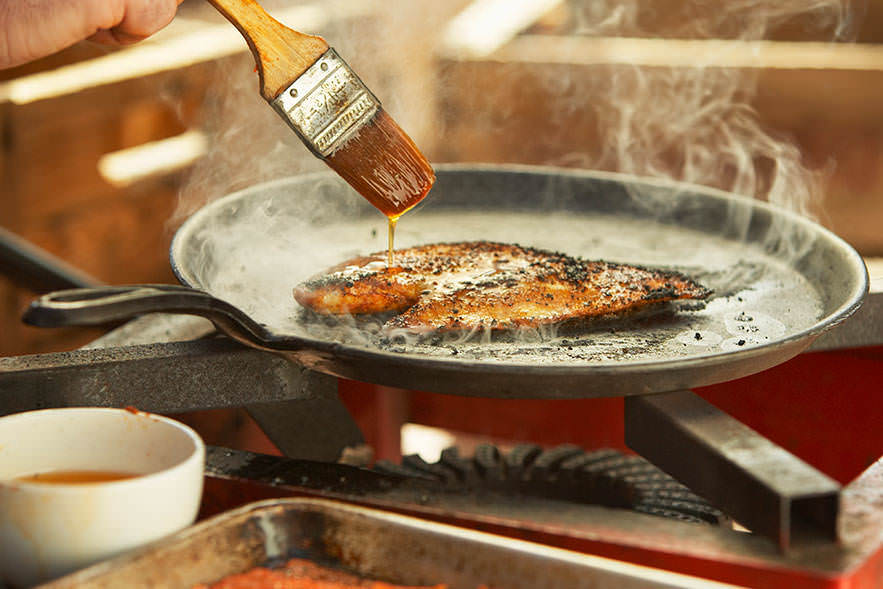 The technique might seem complex but is, in fact, quite simple and very quick. The fish can be substituted with thinly sliced chicken breasts or other equally thin cuts of meat.
You can prepare the fish using standard cooking methods. It will be good, but you will not obtain the amazing blackened spice crust (or the smoke) when using a very hot cast iron pan.
Ingredients
1½ lbs (700 g) firm fish filets ½-inch (1 cm) thick
½ cup clarified butter (ghee) or grape seed oil
2½ Tbsp Cajun blackening spices, ground
Method
1

Read the tips below carefully before beginning this recipe.

2

Dry fish with a paper towel. Set aside for 15 minutes at room temperature.

3

Meanwhile, place cast iron pan on a burner OUTSIDE, on high heat.

4

When pan is very hot (10 minutes), brush one side of the fish filet with melted, clarified butter and sprinkle with spices. Repeat on other side.

5

Place filets in the pan and cook for 90 seconds. Turn fish with a spatula and pour 1 tsp of melted clarified butter on each filet. Cook for another minute. Remove from pan and serve with clarified butter.
PLEASE READ THE TIPS BELOW BEFORE
This technique generates thick, dense smoke and must be done OUTDOORS on a camping stove.
Use a cast iron pan - there is no other alternative.
Clarified butter and grape seed oil are the only fats that can take the intense heat required.
Make sure that the food to be cooked is thinly cut (½-inch / 1 cm) and is at room temperature, otherwise the spices will burn before the food is cooked.
Wipe the pan using a clean rag held between a pair of long thongs after each round of cooking to remove any spices and burnt fat. Be careful, the rag may catch fire!
Allow the pan to reheat for 30 seconds after each round of cooking. Be careful not to burn yourself as the cast iron pan handle will be extremely hot.