Cali-Mex Black Bean soup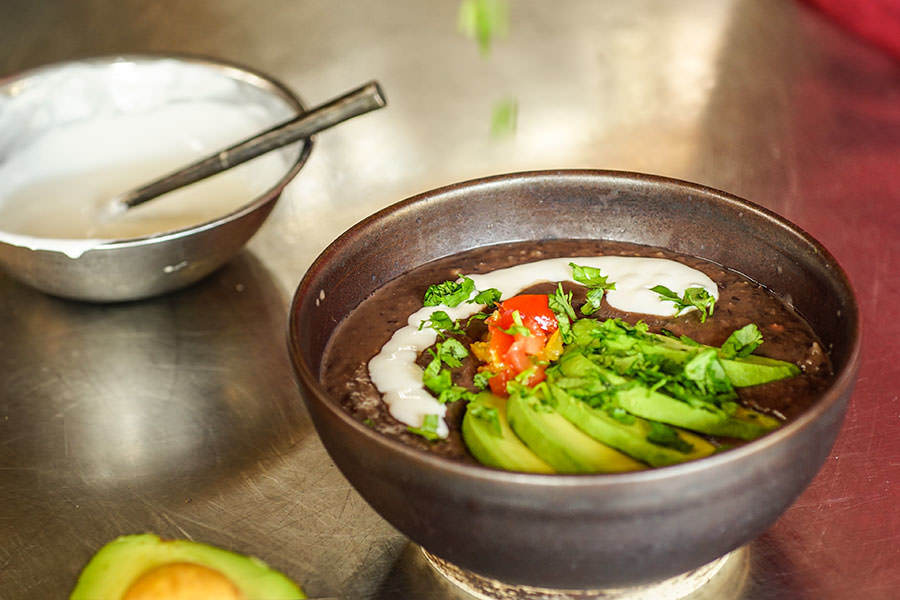 This classic soup is ready about 20 minutes. Fully blending the beans gives a smooth, creamy texture that demands many different garnishes as opposed to the more chunky New Mexican style soup. Top the soup with anything from sour cream, avocado, salsa, green chiles, feta, cheddar or jack cheese, or really anything else.
Ingredients
1 Tbsp oil
1 medium onion, diced
3 cloves garlic, minced
2 Tbsp Cali-Mex blend, ground
1 tomato, diced
½ Tbsp salt
4 cups cooked black beans, with cooking juice
½ cup stock, chicken or vegetable
Few drops Worcestershire sauce
Juice of ½ lime
½ cup grated cheese (optional)
½ cup cilantro, chopped (optional)
1 avocado, sliced (optional)
Method
1

In a large pot, heat oil over medium heat. Add onions and sautée until beginning to brown, about 5 minutes.

2

Add garlic and fry for another minute. Then add the spices and salt, stir, and cook for about 30 seconds.

3

Add tomato, beans (with water from the can), stock, Worcestershire sauce and lime. Simmer for 10-15 minutes.

4

Blend soup until smooth using a stick blender or by transferring it to a blender.

5

Garnish and serve.