Cali-Mex cheese and bacon meatloaf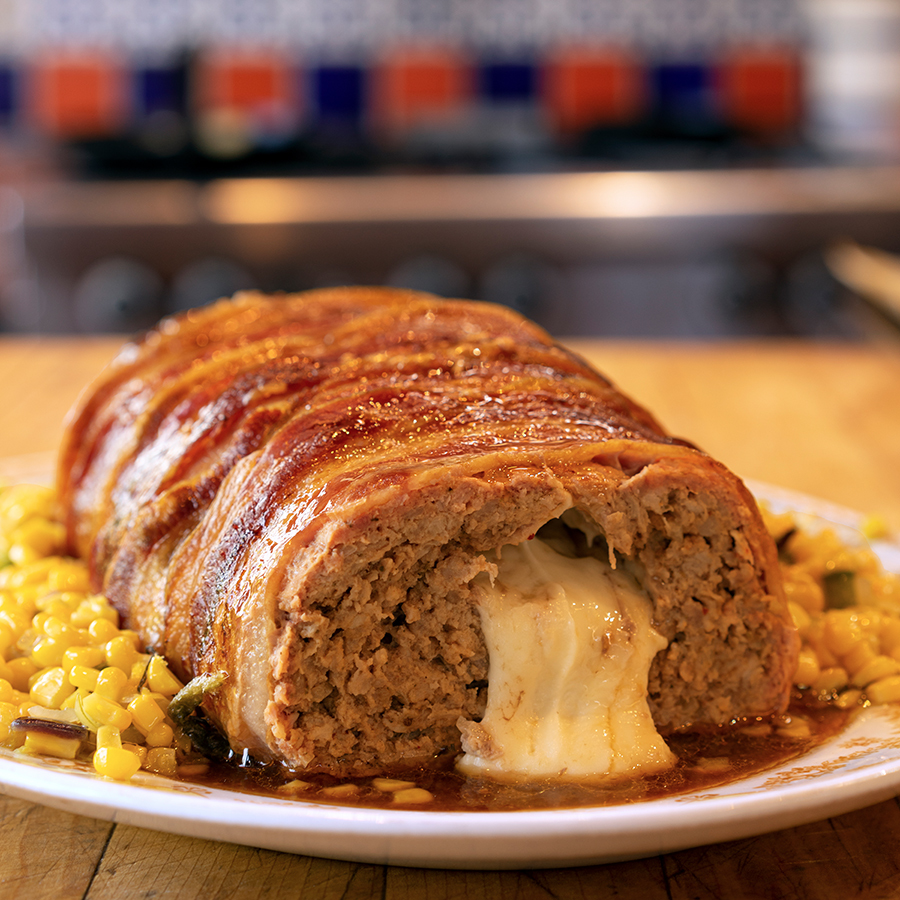 Southern American flavours adopted for our version of decadent, comforting family fare. Use minced meat of your choice for this recipe, or perhaps a combination of different meats. Leftovers will definitely not go to waste and are ideal for sandwiches!
Ingredients
2-3 slices of stale, crusty bread
½ cup milk or water
1 egg
1 medium onion, finely chopped
3 Tbsp soy sauce
4 Tbsp ketchup
2 Tbsp Cali-mex blend or Tex-Mex blend
Salt, to taste
Pepper, to taste
3lbs minced pork
½ lb mozzarella or cheddar or other firm cheese
½ lb bacon, sliced
Method
1

Heat oven to 425°F.

2

Remove the bread crust using a knife and cut the interior crumb into cubes. Place the cubes in a large bowl and pour the milk over. Let rest for 2-3 minutes. Gather the soaked crumbs in your hand, squeeze and discard the excess milk.

3

Put the bread in a large bowl. Add the egg, chopped onion, soy sauce and ketchup. Grind the spices and place in the bowl with salt and pepper.

4

Knead well, using your hands to create a uniform mixture.

5

Add the minced pork and mix well with your hands.

6

Place a sheet of silicone paper on a baking sheet. This will simplify your life when its time to stuff and secure the meatloaf.

7

Spread the meat mixture into a large, uniform, 8-9 – inch wide x 12-14 – inch long, oval shape.

8

Cut the cheese of your choice into ¾ - inch strips. Place in the middle of the meat mixture, without overlapping on the sides. Fold over, with the aid of the silicone paper to shape the loaf. Tap purposely to seal and secure the seam of the loaf.

9

Place bacon slices on the meatloaf and take care to carefully tuck them under the loaf.

10

Place the baking sheet in the center of the oven and cook for ½ hour. Reduce the temperature to 375°F and continue cooking for 45-60 minutes more. Use a thermometer to make sure that the internal temperature is 165°F.

11

Remove the meatloaf from the oven and let rest for 15-20 minutes before slicing, then serve alongside your preferred accompaniments.