California Burrito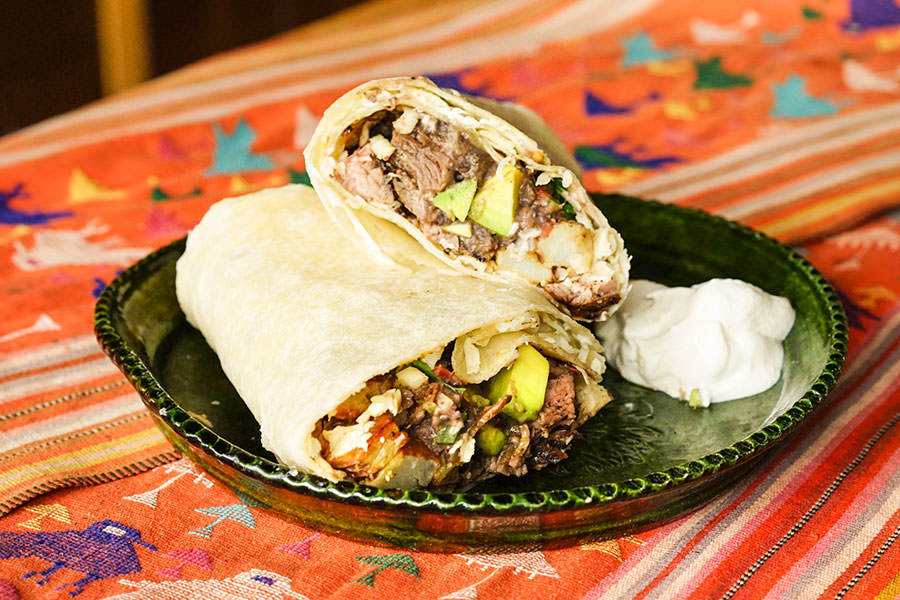 A San Diego favourite, the California burrito features french fries and carne asada for a filling, flavourful meal. This recipe uses roast potatoes, which are easier to make at home (although you can certainly substitute real fries for a more authentic style).California burritos are the go-to lunch or dinner for a hungry Southern Californian in a hurry. A homemade burrito is a good way to taste a border town classic- it does require a little prep, but is sure to satisfy even the greatest of hungers. Be sure to buy the largest flour tortillas you can. Check out our burrito guide for more.
The best way to make this kind of burrito is to prepare all the ingredients separately, then put them in bowls in assembly line next to where you will roll your tortillas. This way, you can roll several tortillas in a few minutes.
Roast Potatoes
2 russet potatoes, diced large
¼ cup olive oil
1 Tbsp Cali-Mex blend, ground
1 tsp salt
Burrito
250 g shredded cheese (cheddar, brick, Oaxaca cheese, anything melty)
Refried Beans
Guacamole or 2 sliced avocados (optional)
Sour cream (optional)
Large flour tortillas
Method
1

Preheat oven to 400F° In a large bowl, toss the diced potatoes in the olive oil, then sprinkle with salt and spices. Spread on a baking sheet and roast until crispy, about 45 minutes. Check the potatoes occasionally to ensure they are cooking evenly. When crisp, remove from oven and set aside.

2

Lay a tortilla flat on a clean workspace like a cutting board or large plate. Spread a little grated cheese on the first third of the tortilla, leaving some of the margins clear (where you will fold it later). Then spread a line of refried beans by dropping a few spoonfuls along the cheese. Then add layers of meat, potatoes, salsa, avocado and sour cream (if used).

3

Fold the two side flaps of the burrito towards the center, but not all the way to the middle. Roll the side of the tortilla with filling away from you, making sure to envelop all the filling in the tortilla as you roll it up.

4

Repeat for each burrito.

5

You may want to put the burrito in the oven for a minute or two to melt the cheese if your fillings were not hot when you rolled the burrito (this often happens in the process of preparing all the fillings). Alternatively, you can quickly grill the burrito in a hot, dry pan or on a griddle for a minute on each side.