Balinese Style stir-fried Calamari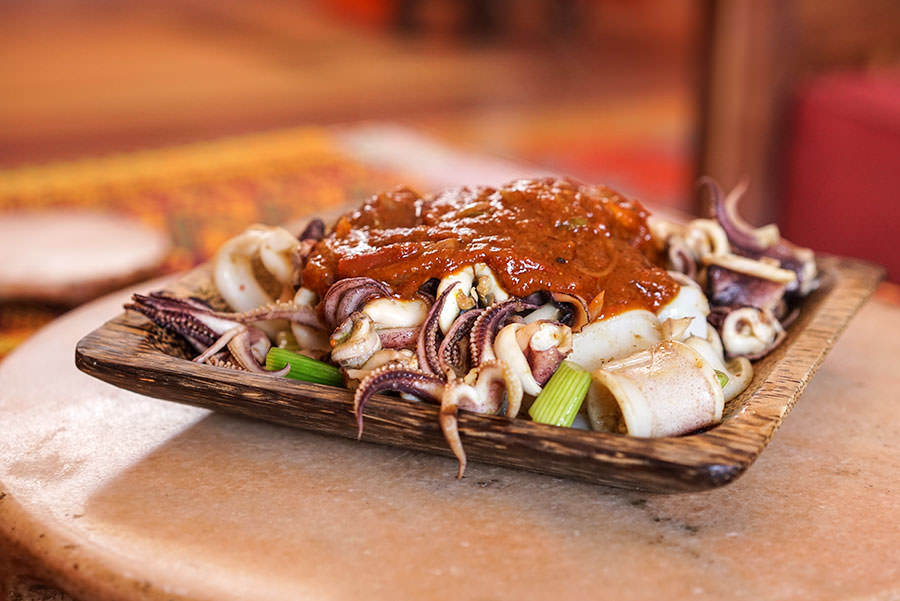 This recipe is inspired by the flavors of Bali. The Balinese sambal that goes on the seafood can be made 2-3 days in advance and is a great condiment in general.
Sambal
4 medium tomatoes or 1 cup canned tomatoes, drained
1 Tbsp galanga, ground
2 Tbsp lemongrass, chopped fine
2 Tbsp coconut oil
1 Tbsp ginger, chopped
1 clove garlic, chopped
4 mince shallots, sliced thin
½ tsp trassi (shrimp paste) or 2 tsp fish sauce
3 Tbsp Korean pepper, ground and/or 1 Tbsp Cayenne, ground
Salt to taste
Calamari Stir-fry
1 lb squid
1½ Tbsp Base Gede - Balinese Curry, ground
4 Tbsp tamarind pulp or 2 Tbsp lime juice
4 Tbsp coconut oil
3 shallots, sliced
2 cloves garlic, chopped
4 Tbsp palm sugar or brown sugar
Method for Sambal
1

Place tomatoes, galanga and lemongrass in a food processor. Reduce to a rough purée. Set aside.

2

Heat a pot on medium. Add oil, ginger, garlic, shallots and trassi. Sauté for 2 minutes. Add chile of your choice. Sauté a few seconds until the oil is just colored with the chile.

3

Add tomato purée and cook on low heat for around 12 minutes, until the sauce is thick. This sambal keeps for 3-4 days in the fridge.
Method for Calamari
1

Wash squid and chop into more or less equal pieces. Rinse and let drain a few minutes in a colander. Place pieces on some paper towels and dry them as much as possible.

2

Place the calamari pieces in a bowl with the Base Gede and tamarind. Mix well and let stand 5 minutes.

3

Heat a wok on very high. Add coconut oil, shallots and garlic. Sauté for 10 seconds. Add calamari and stir fry for 2 minutes, until it is just cooked.

4

Remove calamari with a skimmer and place on a large plate. Leave cooking juices in the wok and boil until they thicken. Add the calamari juice that has formed on the plate, along with sugar and the sambal. Cook 1 minute more. Pour the sambal sauce over the calamari. Serve immediately.