Cambodian fish curry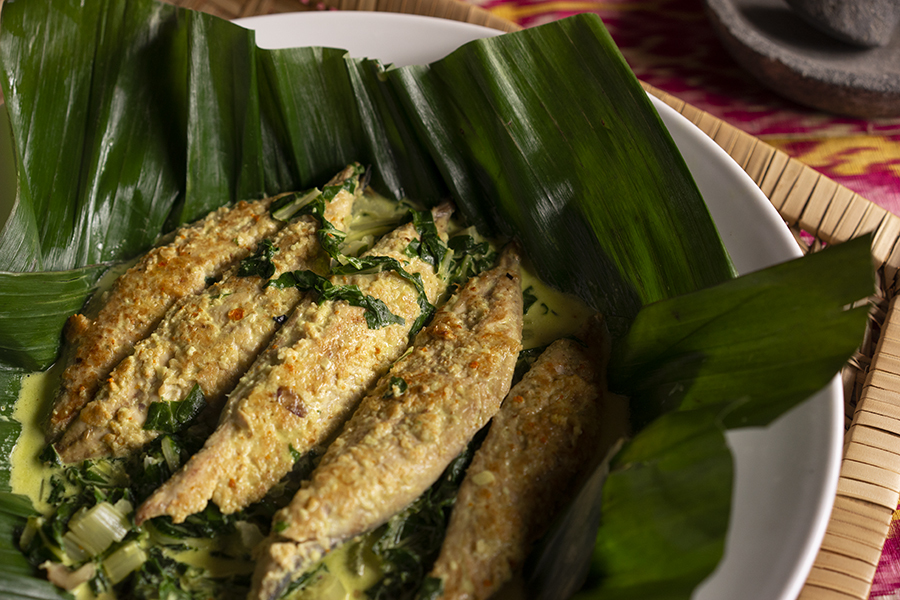 There is an incredibly wide variety of curries in Cambodia. Most of them are quite mild, and are made using fresh, aromatic spice pastes. We were inspired by typical Khmer cuisine, which encouraged us to create a blend using dry spices.
Most green, leafy, Asian vegetables would work well for this recipe. If you are unable to find Bok Choy, Kale or Swiss chard would be acceptable substitutes.
Ingredients
1 lb firm fish filet (Mackerel, Golden fish or Mahi-Mahi)
4 French shallots
2 garlic cloves
3 Tbsp Layover in Cambodia spice blend, ground
1½ Tbsp fish sauce
Salt to taste
1 large Bok Choy OR 1 large package Swiss chard
¼ cup coconut oil
1 tsp turmeric, ground
3 cups coconut milk
Method
1

Rinse the fish filets with cold water, then let drain on paper towels.

2

Place the shallots, garlic, spices, fish sauce and salt in a blender and reduce to a paste.

3

Rub half the paste on the fish filets and set aside for at least 15 minutes.

4

Meanwhile, clean and wash the Bok Choy. Drain well and chop the stems into small pieces. Cut the leaves roughly, using a knife.

5

Heat a large pan on medium. Pour in half the oil and brown the filets briefly for 1 to 2 minutes on each side – without cooking them completely. Set the filets aside on a large plate.

6

Pour the remaining oil into the pan, add the other half of the spice paste, as well as the remaining fish marinade and turmeric. Sauté lightly for 2 minutes, stirring constantly.

7

Pour the coconut milk into the pan. Boil for 3 minutes, then add the vegetable stems. Cook for 2 minutes and incorporate the green leaves and continue cooking until they're almost cooked (approximately 2 minutes). Taste and adjust for salt, if necessary.

8

Return the filets to the pan to allow the fish to finish cooking.